STORIES OF STRUGGLE | July 21, 2013
The tale of the caregiver
Like thousands of other residents of Maine, Patty Smith of Freeport tended dutifully to her ailing mother, only to watch, helpless, as an aging parent stricken with dementia slowly slipped away.
F
or years, Patty Smith had ignored signs that her mother, Kathleen Prindall, was having memory problems. It took some effort. They lived next door to each other in Freeport, on 40 acres that had been in the family for decades.
"My mother has always been fiercely independent," said Smith, 60. "I didn't want to face the fact that mom was having issues with her memory."
On Jan. 1, her 78-year-old mother made it very clear. She walked several miles into Freeport Village in 15-degree weather in mismatched shoes, without a coat or gloves. She tried to get into a stranger's car to warm herself and was picked up by the police.
When Smith came to bring her home, her mother insisted that she was able to get there on her own. An ambulance brought her to Mid Coast Hospital in Brunswick, where she was diagnosed with dementia for the first time, as well as a raging urinary tract infection, a condition that often occurs in dementia patients.
Patty Smith thus joined the growing number of Mainers who are juggling jobs or taking time off to care for aging parents.
Between 150,000 and 200,000 Mainers are taking in older family members or helping them continue to live on their own. But while they provide services worth more than $2 billion per year, the added responsibility puts untold strain on families and employers, according to the AARP Public Policy Institute.
A recent survey also found that only 19 percent of Maine's caregivers had ever sought training or support, such as adult day care or hospice care, and many didn't know such services were available or affordable, according to the state's aging plan.
The experience can be excruciating.
Smith took a leave of absence from her job at L.L.Bean so she could assume every aspect of her mother's personal care, cooking her meals, cleaning her house and making sure she took prescribed medications. She hoped for recovery, but her mother's health and behavior grew worse.
As the weeks passed, her mother no longer recognized the house, garden and cats that she had loved so much. Increasingly volatile and belligerent, she refused to take medications and told Smith she wasn't her daughter.
"My daughter is dead," she said.
In May, following a doctor's visit for yet another urinary tract infection, her mother refused to return home with her.
"I'm not going anywhere with you," she said. "I don't trust you."
The doctor re-admitted her mother to the hospital. When she was stabilized, she moved into Hawthorne House in Freeport. Smith has visited the nursing home several times, but she has avoided seeing her mother for fear of upsetting her.
Smith has found support in her husband, Emil, and friends who've had similar experiences. She also found extraordinary support at work, where L.L.Bean officials report a growing number of their 4,500 employees in Maine are caring for aging parents.
"The family medical leave we have through Unum is awesome," Smith said. "It was incredibly easy for me to take time off and focus on my mom. By the time I got home each night, I was mentally and physically exhausted."
The hardest part has been seeing her mother slowly disappear before her eyes.
Now, Smith said, "There isn't one vestige of my mother left."
in her words
an interview with Patty Smith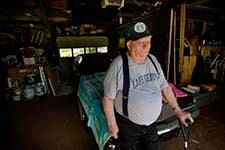 Stanley Main
With advanced age comes vulnerability to physical, emotional and financial threats, sometimes even at the hands of those we should trust the most. Just ask Stanley Main, 82, of South Portland.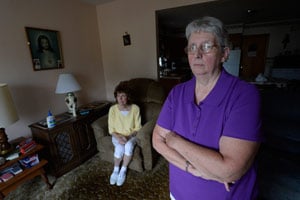 Laurette Lauze
As Laurette Lauze of Lewiston can attest, a backlog of projects and increasing demand mean the already lengthy waiting lists for subsidized living arrangements for seniors will only grow longer.

Further Discussion
Here at
PressHerald.com
we value our readers and are committed to growing our community by encouraging you to add to the discussion. To ensure conscientious dialogue we have implemented a strict no-bullying policy. To participate, you must follow our
Terms of Use.
Questions about the article?
Add them below and we'll try to answer them or do a follow-up post as soon as we can.
Technical problems?
Email them
to us with an exact description of the problem. Make sure to include:
Type of computer or mobile device your are using
Exact operating system and browser you are viewing the site on (TIP: You can easily determine your operating system here.)