Part III. Kathy & Larry Roy | October 6, 2013
The Long Goodbye
Over two decades, Kathy Roy of Bath lost almost everything to Alzheimer's – memory, mobility, speech – but found remarkable sustenance in her husband's loving hands. As Maine's elderly population surges, many more of us will experience stories similar to theirs.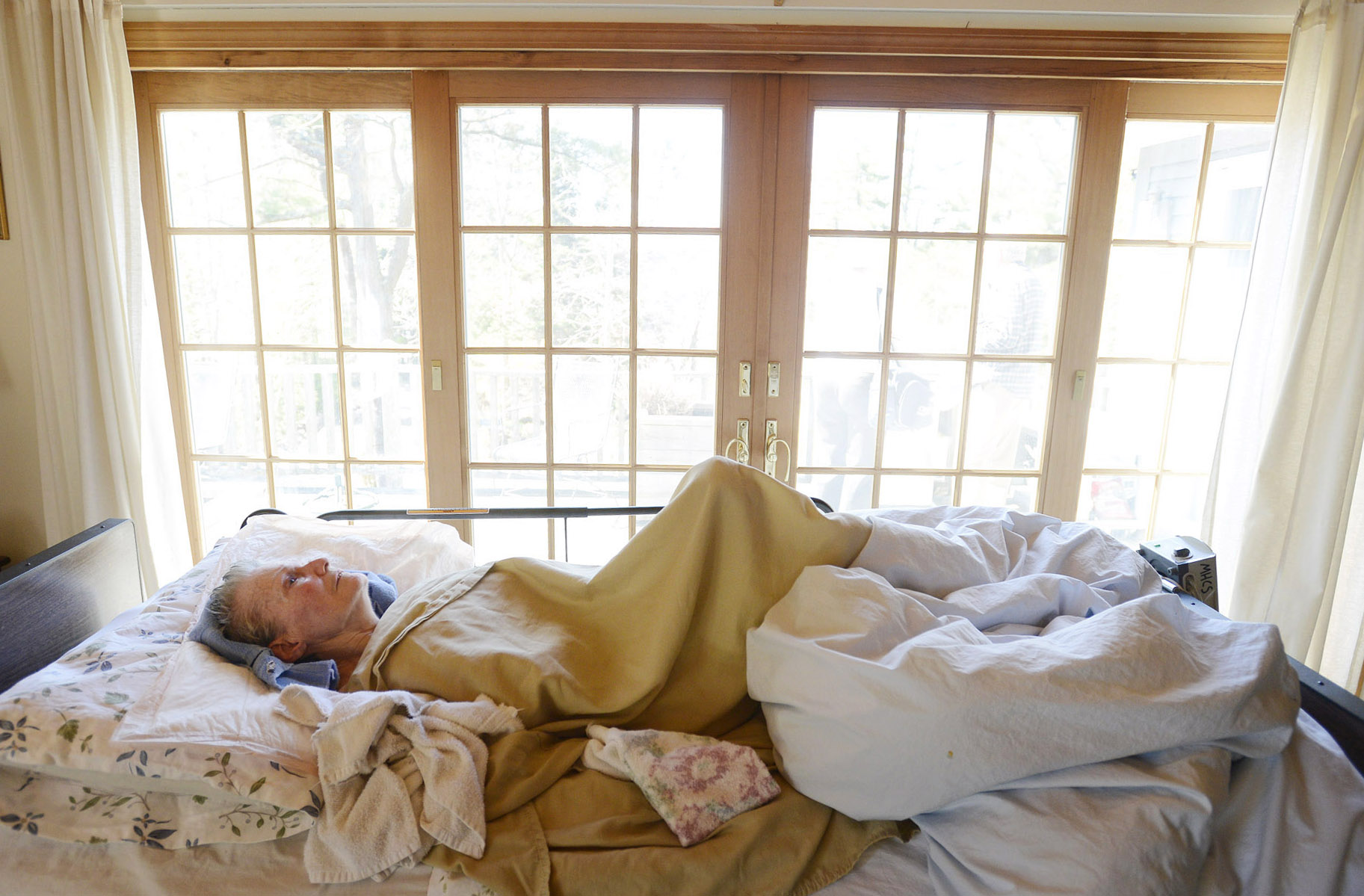 When the stairs of their Bath home became too hazardous for his wife to navigate, Larry Roy bought an adjustable hospital bed secondhand and moved Kathy into the living room downstairs. Alzheimer's "disrupted their lives like a train wreck," one of their children said. Shawn Patrick Ouellette / Staff Photographer
B
ATH — Larry Roy positions the chair in front of his wife of 55 years. On a small table next to him sit a juice box and a container of applesauce.
Kathy Roy is tipped back 45 degrees in her geriatric recliner. A small towel is draped across her clothes. Her eyes are open, but the lids are heavy. She doesn't move except for an occasional, involuntary muscle tic.
"How we doing, mum?" Larry asks as he brings the juice to her lips. She takes the straw and slowly draws the liquid.
"Every morning I walk down the stairs, I wonder whether she'll be alive or dead,"
Next, the applesauce. He brings the spoon to her mouth, which is barely open, and feeds her, expertly catching any that doesn't go down. For now, Kathy is able to swallow on her own, but that could change any day; any hour, really.
"Every morning I walk down the stairs, I wonder whether she'll be alive or dead," Larry says.
The last words get caught in his throat and his voice trembles. He is at once prepared for the moment and terrified of it.
For nearly two decades, caring for Kathy has been Larry's life's work. From the moment she wakes up until she closes her eyes at night, he is by her side. Feeding her. Bathing her. Stroking her face to elicit a soft moan, one of the only forms of communication she has left.
They call Alzheimer's disease "the long goodbye," but no one expected Kathy's goodbye to last this long. The average life expectancy after an Alzheimer's diagnosis is 4 to 8 years. Kathy is nearing 20 years.
Her memory was the first to go. Then her balance. Then her speech. For the last decade, she hasn't been able to say her husband's name or walk to the bathroom.
Kathy is 75 and deep into the last of Alzheimer's seven stages. Most who reach her age live out their final days in a nursing home. That's never been an option for Larry. He believes in his heart that he is the only person who can care for her, even amid the enormous physical and psychological challenges that come with being a caregiver.
CONSIDER THIS

An estimated 37,000 people in Maine and 5.2 million nationwide have been diagnosed with Alzheimer's disease.
Among those age 65 and older, one in eight (13 percent) has Alzheimer's disease.
"As a daughter, part of me says, 'Dad, you've done your job. You've prepared her for heaven in the best way you possibly could,'" said Kathleen Brown, 49, the third of Larry's and Kathy's four grown children. "But part of me also thinks he just doesn't want her to go on his watch."
Alzheimer's disease has emerged as the defining illness of the baby boom generation. Not as pervasive as cancer or heart disease, Alzheimer's stands out because of its effects not just on the afflicted, but on their loved ones. The disease is, quite literally, slow, permanent brain damage.
Kathy Roy is among an estimated 37,000 Mainers who live with Alzheimer's, although experts say the actual number is much higher given the reluctance to diagnose the disease. Many more live with dementia, a term that refers to all brain disorders that affect memory, judgment and other mental acuity.
The numbers will only grow considerably as more Mainers move into the age where Alzheimer's is most likely to manifest.
Yet despite newly focused efforts to find better treatments or a cure, the disease remains irreversible and largely untreatable. It is also one of the most costly to treat because so much of the cost goes to palliative care by doctors, nurses and other health care professionals.
"Forget the fact that it's probably the most heart-wrenching disease, it's also an economic crisis," said Laurel Coleman, attending physician at Maine Medical Center's Geriatric Clinic and a member of the national advisory council on Alzheimer's Research Care and Services. "We've made strides in the last 10 years, but we still have such a long way to go."
Any advancement in Alzheimer's research and treatment won't help Kathy Roy. The only thing keeping her alive, according to her own nurses, is her husband's love.
Larry, 78, said sharing her experience (and his, too) gives him comfort. He wants people to understand why he does what he does. And if others benefit even a little, he's grateful.
"I call it a gift," he said over coffee one day inside the couple's home in Bath. "This is a chance, a moment in life, where you can give so much to someone who is so helpless. You can enrich their life."
He pauses again to blink back tears.
"And that's the gift."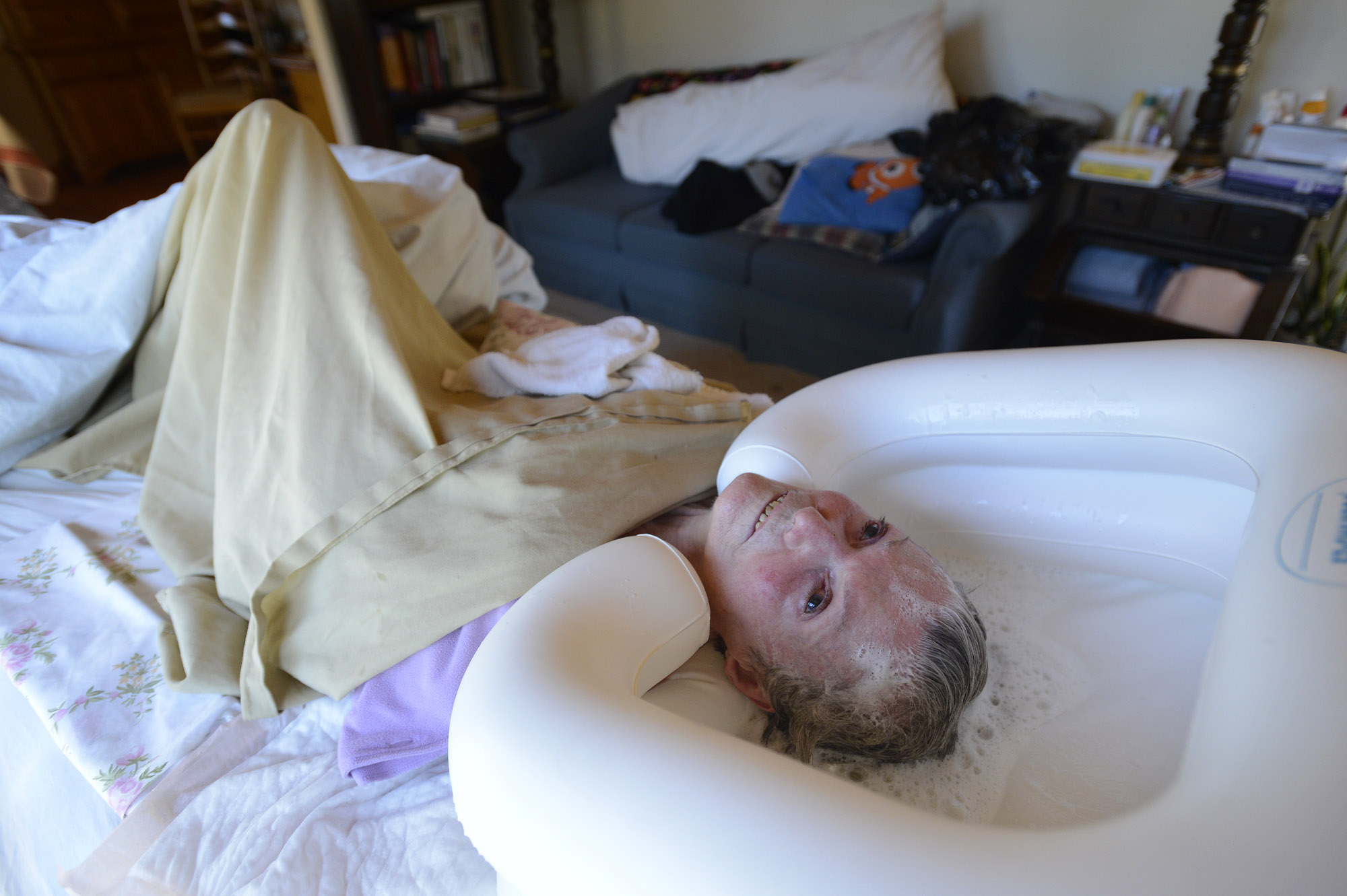 Kathy Roy getting her hair washed Shawn Patrick Ouellette / Staff Photographer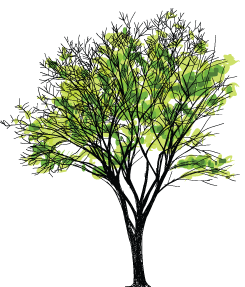 'DOOMSDAY' DIAGNOSIS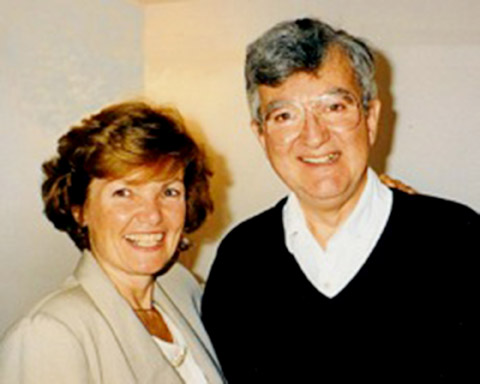 The Roys celebrate their 35th wedding anniversary in 1992. Larry remembers meeting Kathy when they were students at Colby College in the 1950s. "She had a beautiful smile," he says.
Contributed Photo
L
arry met Kathy when both were students at Colby College in the 1950s.
"I was hustling another chick," he says, laughing at the memory. "It was her best friend, actually.
"Sometimes, Kathy would come out with us and she would sit in the back of the car smiling, always smiling. She had a beautiful smile."
So they started talking and didn't stop. He lost interest in the friend.
They married in 1957 and spent a few years bouncing around the East Coast while Larry finished school and became a licensed clinical social worker. Kathy worked in health care, too, as a laboratory technician. They settled in Scarborough and had a child, then three more. Their life was not always perfect, Larry said, but it was complete.
"She had her way and I had my way and we made our way through life," he said.
It's hard for Larry to pinpoint exactly when the symptoms of Kathy's disease first popped up, but one event is crystallized in his memory. It was 1992. The two were in separate cars but headed to the same auto mechanic in Scarborough, where Kathy would drop off her car. Larry was going to pick her up. They got separated somehow. He arrived first. Five minutes passed. Then ten. About a half-hour later, Kathy pulled in.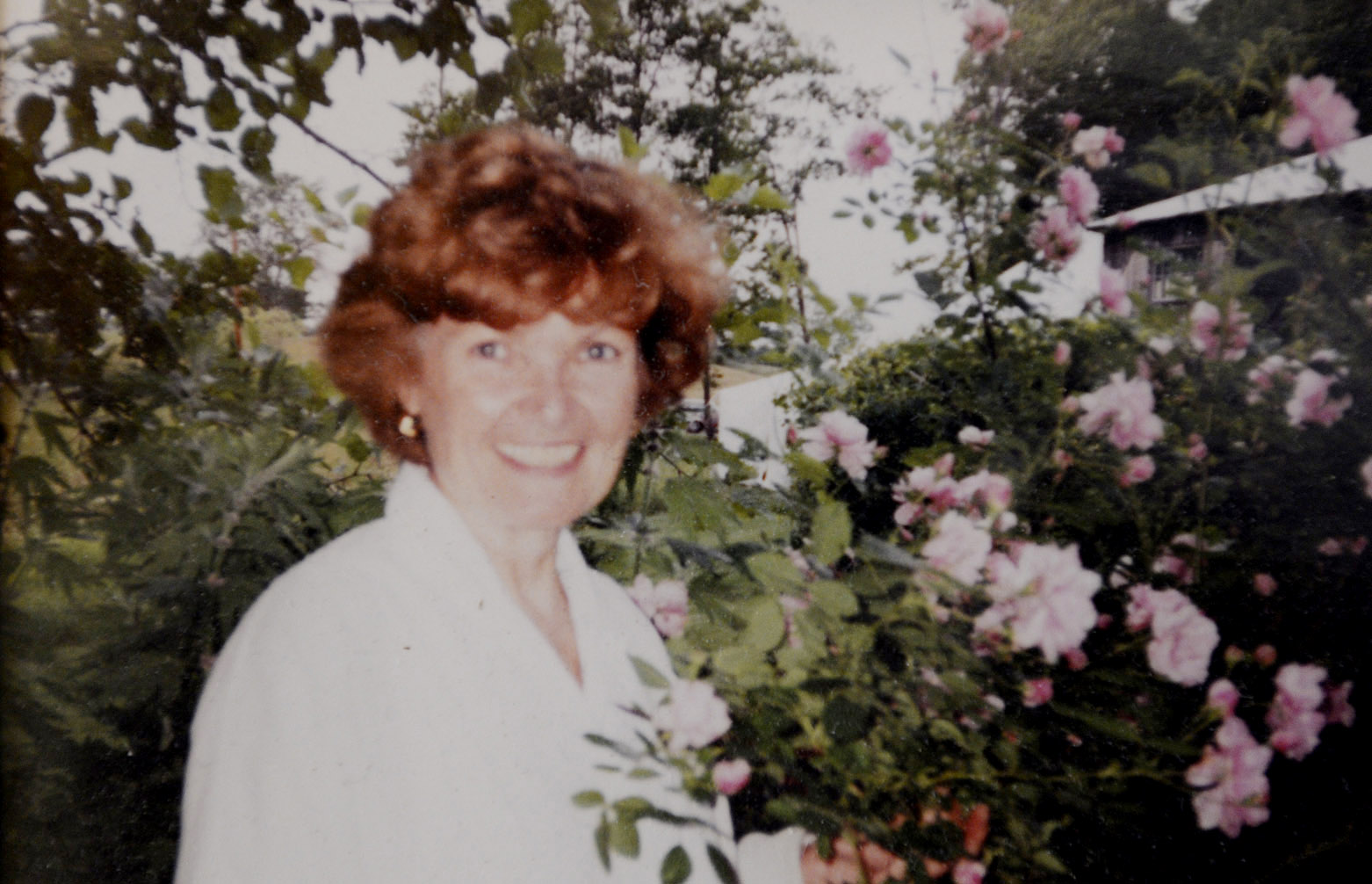 Kathy Roy in her rose garden in 1996.
Contributed Photo
"She said, 'I couldn't find my way,'" Larry recalled.
He was troubled because Kathy had been to that mechanic many times before.
A few days later, she accompanied him on a business trip to Montreal. While he sat in conference rooms with other social workers, she explored the city. When they met for dinner later in the day, she complained about not being able to remember stops on the subway, even though she had a map with her.
Over the next year, there were other little signs. She would miss a step on the stairs. She thought she smelled something burning. In 1993, when the two went to Paris for vacation, Larry noticed that Kathy had started to walk behind him. He asked her why and she got angry.
"She was embarrassed, I think," he said. "But she couldn't find the way without me."
Brown, the couple's daughter, remembers the moment she realized something wasn't right with her mom. She had just given birth to her first daughter and her parents came to visit.
"She was holding (the baby) in the receiving blanket," Brown said. "The blanket kept unwrapping and she didn't know what to do. I'm like 'Mom, you've had four kids, what's going on here?'"
A short time later, Brown and her husband hosted a party at their home in Buxton. Kathy kept asking if she could help but, "She just didn't know what to do. She looked lost," Brown said.
It took about three years and visits to four neurologists before Kathy Roy got her diagnosis. She was 57.
Larry still calls it "doomsday."
"I didn't know much about (the disease) at the time," he said. "I had to learn on the fly."
in his words
an interview with Larry Roy
Alzheimer's is among the most misunderstood and stigmatized diseases. It was first discovered in the early part of the 20th century, but it has only been during the last couple of decades that doctors have learned the science behind the disease.
CONSIDER THIS

Alzheimer's is the sixth leading cause of death in the United States.
Maine's mortality rate for Alzheimer's is 37.8 per 100,000 individuals. The national rate is 27 per 100,000.
"For years, people just thought it was a natural part of old age, and they couldn't really distinguish symptoms of Alzheimer's from normal symptoms of aging," said Bill Kirkpatrick, program director for the Alzheimer's Association of Maine.
Eric Dinnerstein, a Scarborough neurologist who specializes in Alzheimer's and conducts clinical research trials on possible treatments, said doctors now know that the disease is characterized by a buildup in the brain of something called amyloid protein. As more protein takes over brain cells, functions diminish. Memory. Speech. Balance.
When Kathy's diagnosis came, Larry didn't know how long she might last.
"For the first few years, we just lived," he said.
Larry remembers one day, in the early stages when Kathy could still do most things, the two packed a picnic lunch and a bottle of wine and biked from their home in Scarborough to Crescent Beach.
Larry said he wanted a moment where, "it would just be us in our little world."
They sat on the beach and watched the sunset. They drank the whole bottle of wine.
It was a moment for him to remember even when she couldn't.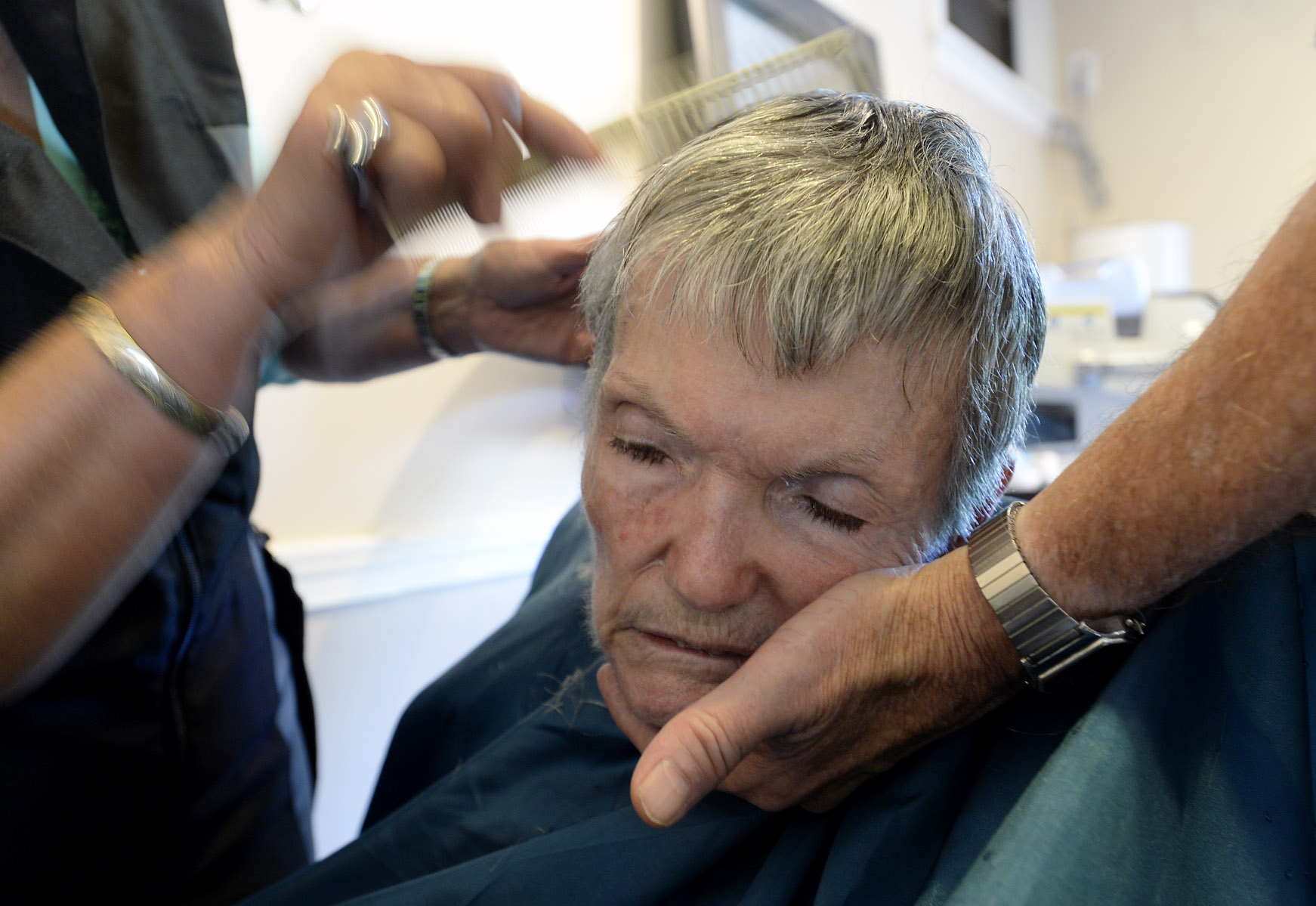 Kathy Roy has her head supported by her husband while Flo Hutchins of Scarborough cuts her hair in August. Flo Hutchins Beauty Shop was where Kathy came to have her hair done when she was still well. Shawn Patrick Ouellette / Staff Photographer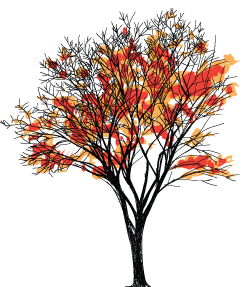 'LIKE A TRAIN WRECK'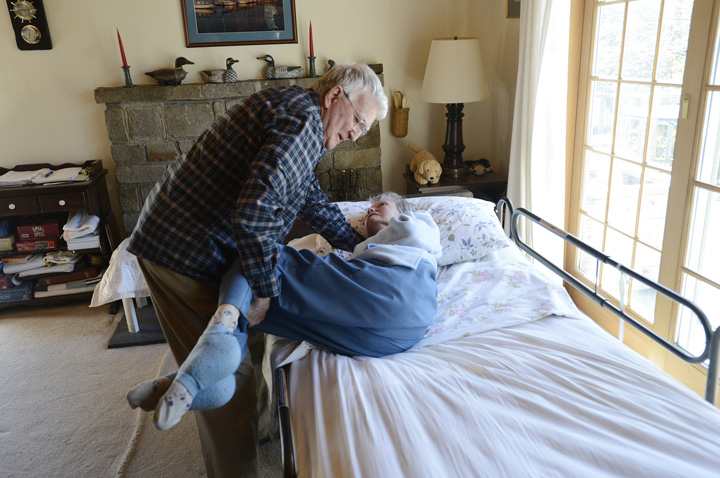 L
arry and Kathy bought a second home, a retirement home, in Bath, in 1987. It was a seasonal cottage overlooking Brighams Cove that they renovated and winterized.
Once their children moved out, they planned to move there full time and grow old together. The reality of their retirement looks different now than when they used to dream about it.
When Larry thinks of their life together before and their life now, it is two different lives. Life before Alzheimer's and life after.
Larry and Kathy bought a hot tub many years ago because she enjoyed soaking in the steamy, bubbly water. Now, it lives in the basement, waterless and covered with boxes.
They bought a small sailboat, the Hunky Dory, with a cabin below decks, and had dreams of exploring the myriad inlets and bays along Maine's coast.
But sailing became a challenge. Kathy could no longer tell left from right; port from starboard. They had to sell the boat.
"I lost my first mate," Larry said. More tears.
In the dining room of the Roys' home, there is a framed picture of Kathy in a life jacket standing in front of the vessel just before a sail. She is smiling.
Brown, the couple's daughter, said she still gets sad thinking about the timing of her mother's diagnosis and deterioration.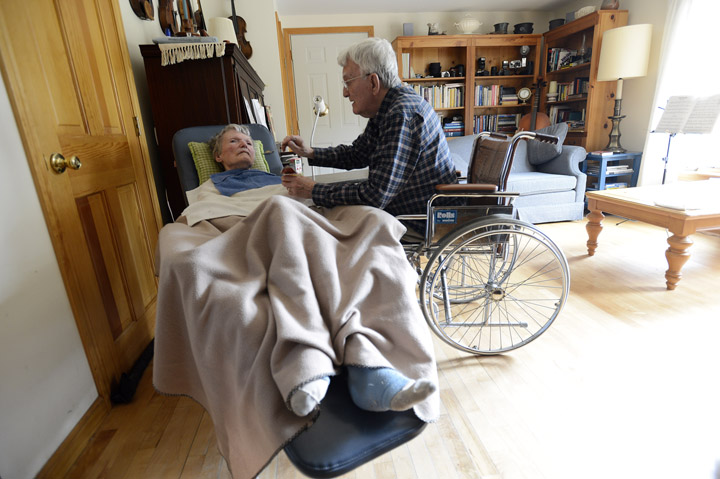 "They had just gotten free to do what they wanted and then Alzheimer's came in and disrupted their lives like a train wreck," she said.
This is how it goes for many families affected by the disease. Depending on the age of the Alzheimer's patient at the time of diagnosis, their primary caregiver will either be a spouse or an adult child. The emotional toll on that caregiver can be great.
"One of the major challenges for caregivers of people with Alzheimer's in a state like Maine is isolation," said Kirkpatrick, of the state Alzheimer's Association.
Shortly after Kathy's diagnosis, Larry began attending an Alzheimer's support group in Damariscotta. At the time, it was the closest option to his home.
Other support groups have formed since the mid-1990s – the Alzheimer's Association manages about 40 statewide – but Larry still drives to Damariscotta once a month out of habit.
"People come and go, but I'm always here," he says.
What Larry doesn't say is that people come and go because their loved ones die.
At his support group, Larry has become something of a sounding board for others. Chances are, whatever someone is going through with their loved one, Larry has gone through it already.
Alzheimer's disease progresses through seven distinct stages that range from minor memory loss to the inability to walk or talk. But there is no defined period of time for each stage. Some move through a stage quickly; others stay in a stage for a long time.
The scariest part of Kathy's deterioration, Larry says, were the seizures, a common side effect of the amyloid protein buildup on the brain. After each episode, her mind shut down a little more. Sometimes, a seizure would cause her to fall. When Larry wasn't there to catch her, she hit the floor.
"One time, she fell on the hardwood," he said. "The noise was like a dead body."
When her legs stopped working, Larry used a resistance band to help lift her lower limbs so that she could make it up the stairs to their bedroom.
When the stairs got to be too dangerous, Larry bought an adjustable hospital bed secondhand and moved Kathy into the living room downstairs. Still, he wouldn't leave her.
"You get so you don't want to change your ways," he said. They couldn't share the same bed, but Larry opened up the sofa and slept there, just to be close.
He doesn't remember the last time he had a conversation with Kathy.
"It's a big blur, you know," he said. "Her speech would slow way down and then, all of a sudden, one day she just stopped."
Brown said she doesn't remember her last conversation with her mom either.
"You just don't know what they are aware of," she said.
Coleman, the Portland geriatrician, said the worst thing loved ones can do is treat an Alzheimer's patient as if they are not there.
One time, when she was alone with her mother, Brown was talking aloud, telling stories. She reminisced about when her parents decided to move to Bath full time.
"I looked over at her, and sometimes when you talked to her, her tongue might move or her eyes would flicker, but this time she was crying," Brown said. "I started crying too."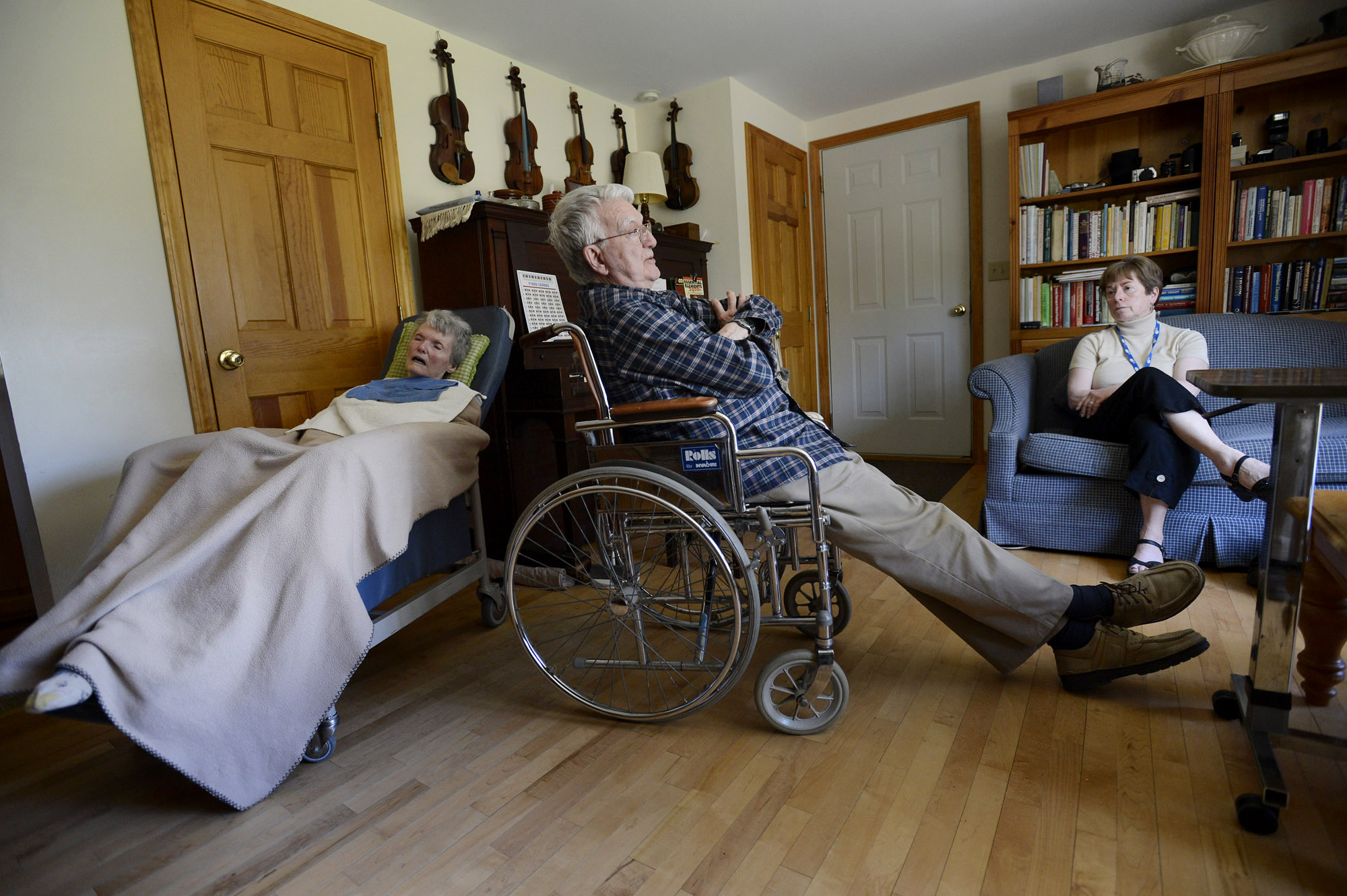 Larry Roy speaks with Karen Carlisle, a hospice social worker with CHANS Home Health Care in Brunswick, last spring. He doesn't remember the last time he had a conversation with his wife, Kathy, at left. "It's a big blur, you know," he said. "Her speech would slow way down and then, all of a sudden, one day she just stopped." Shawn Patrick Ouellette / Staff Photographer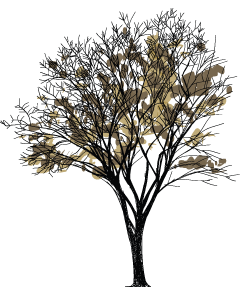 'ON CALL ALL THE TIME'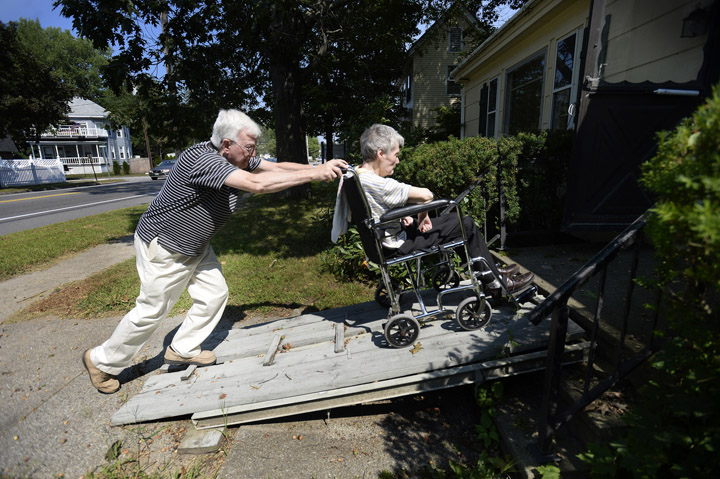 T
he interior of the Roys' home is cozy and cluttered in the way most grandparents' homes are cozy and cluttered.
The refrigerator is a wall of pictures, mostly grandchildren. More pictures in frames line the hallways. Even more fill albums on bookshelves throughout the home.
But there are reminders of the disease. Sharp contrasts.
"You have to understand, I'm a hostage,"
In the kitchen, for instance, there are individual coffee cups next to containers of baby food. There is a fresh bowl of fruit next to a container of thickening agent. There is an $85 bottle of Lagavulin single malt scotch next to Minute Maid juice boxes.
This is Larry's life. He is at once grateful and stir-crazy.
"You have to understand, I'm a hostage," Larry says. "I don't live like other people. If you want to go for pizza, you just go. If I want to, I have to call someone and see if they will come out and watch her. I'm on call all the time."
That said, he still does more than most his age. He bikes as often as he can. He designs jewelry from native Maine stones. He takes photographs. He recently started taking cello lessons at Bowdoin College.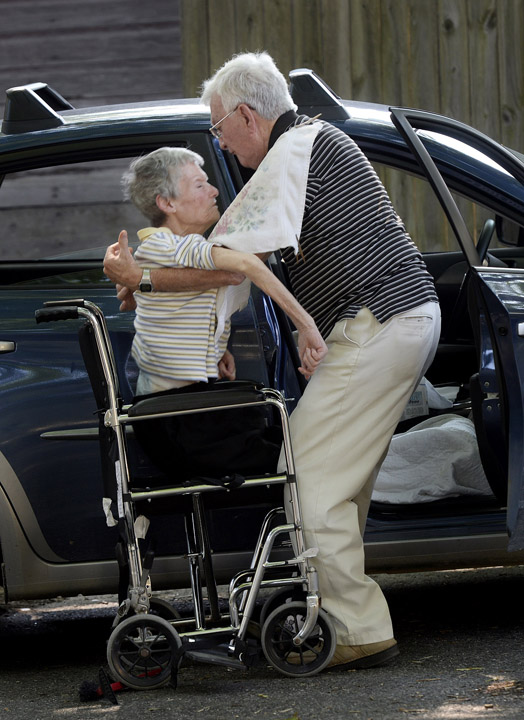 Larry Roy puts Kathy in her wheelchair during a trip to his South Portland office for a meeting with a client in August. Larry brings his wife to work meetings and to church in Bath so he can remain socially active and continue to care for her.
Shawn Patrick Ouellette / Staff Photographer
Even though he's technically retired, he also still sees patients once in a while who were holdovers from his social work practice. About once a month he drives into South Portland, where he still has an office. Kathy comes, too. She usually sits in the waiting room.
He takes Kathy to church. Not every weekend, but as often as he can. They often sit in the back of St. Mary's Roman Catholic Church in Bath, away from the rest of the parishioners where Kathy's wheelchair will fit.
He does his best to tend to flowers in the front yard.
His social worker, Karen Carlisle, who visits once a month, commented on the flowers during a recent visit.
"That was Kathy's hobby," he said.
"I wish I had gotten to know her," Carlisle said.
"Me, too," Larry said.
The tears come. He's lost in a memory.
After a couple of minutes, he resumes his talk with Carlisle. She asks him how he's holding up, and he says he's fine.
"When you are a caregiver, it's somber and serious," he says later. "So you are apt to be down. You have to redefine the situation."
If he's feeling negative or frustrated – common emotions for caregivers of Alzheimer's patients – Kathy can sense it, he says.
CONSIDER THIS

Medicare expenditures for people with Alzheimer's or dementia are on average three times higher than someone without the disease.
An estimated 4 percent of people who reach the age of 80 will be placed in a nursing home. That number jumps to 75 percent for people who reach 80 and have Alzheimer's disease.
Even as Kathy's health has deteriorated, Brown said she and her siblings side with their dad in keeping her home, rather than in a special care facility.
One time when Kathy was placed in a home for respite, Brown and her sister had to visit at each mealtime to feed their mother, because staff at the home simply didn't have the time.
"They didn't understand the nuances of her behavior," she said.
Kathy's brief stay in the home is still the only time she has gotten a bedsore.
"That would never happen on Dad's watch," Brown said.
Because he cares for Kathy himself, Larry has avoided much of the cost associated with the disease. For him, though, it has never been about the money.
"I guess we could go through all our money and (qualify) for Medicare," he said. "But what kind of care would she be getting? They are not going to care for her the way that I can."
That's one of the biggest challenges of caring for someone with Alzheimer's. Most often, the responsibility falls to a spouse, often an aging spouse, or an adult child. But not everyone can care for someone in their home.
There has been an increase in the number of residential beds available for people with Alzheimer's or dementia, but the new beds are almost all private beds, said Kirkpatrick, with the Alzheimer's Association.
For those who rely on MaineCare, the wait for a bed could be anywhere from six months to five years.
CONSIDER THIS

People with Alzheimer's are 17 percent more likely to need help with feeding, 9 percent more likely to need help getting dressed and 15 percent more likely to need assistance managing incontinence than a person the same age who does not have the disease.
But Misty Marston, the helpline coordinator for the Alzheimer's Association of Maine and a licensed social worker, said it's just as important to provide support and training for caregivers like Larry who choose to keep their loved ones at home.
The other thing about MaineCare is that even if a patient qualifies for a certain level of care based on their assessment, a spouse cannot be reimbursed for that care. In other words, there is no financial assistance for someone like Larry who chooses to be his spouse's caregiver.
"I'm extremely fortunate to have resources," he says.
More than that, Larry has love. Unconditional, eternal love for his spouse.
"I thought I had learned everything I could about love from my parents before Alzheimer's, but I really learned what love was after," Brown said.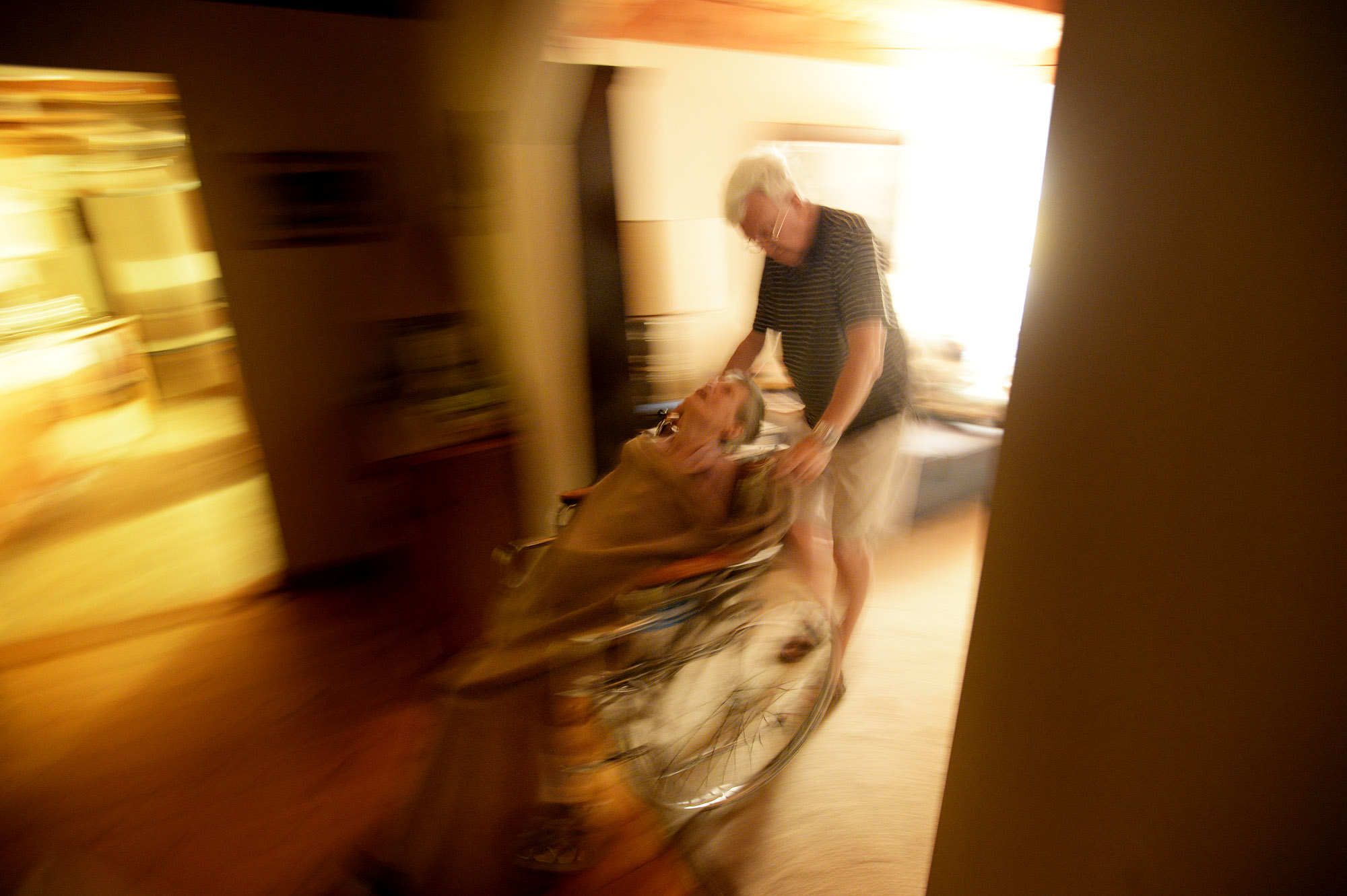 Larry Roy wheels Kathy into her makeshift bedroom late in August. Larry says the scariest part of Kathy's protracted deterioration were the seizures she has suffered. After each episode – a common symptom among patients with Alzheimer's disease – her mind would shut down a little bit more, he said. Shawn Patrick Ouellette / Staff Photographer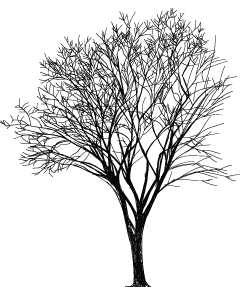 'DEATH IS THERE WAITING'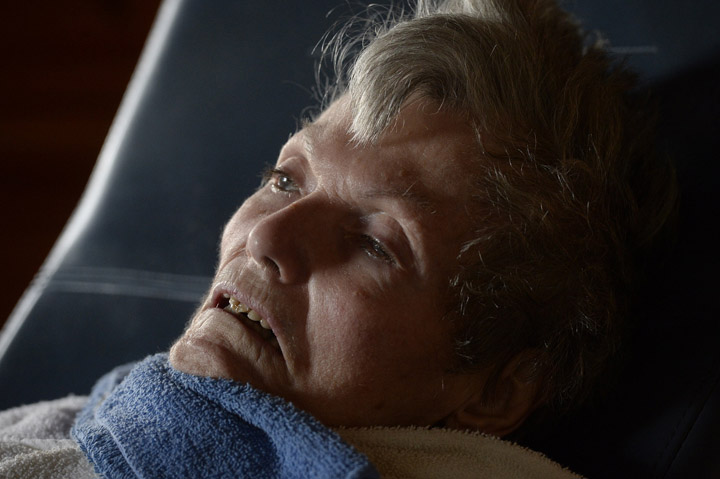 T
here is a piano in the Roys' home. Larry said he passed it every day for 50 years before he ever sat down to play. Now, he plays to pass the time and keep his own mind sharp. The chords fall easily from his fingers.
On the facade above the piano in the Roys' living room, above the white keys and below a picture of Larry and Kathy from years ago – before "Doomsday" – there is a songbook.
On a recent day this summer, it was opened to a classic: "Que Sera Sera."
Whatever will be, will be.
This is how Larry lives. A life of uncertainty.
Most people receive hospice, or end of life, care for a few months or sometimes only weeks.
Kathy has been on hospice for more than four years.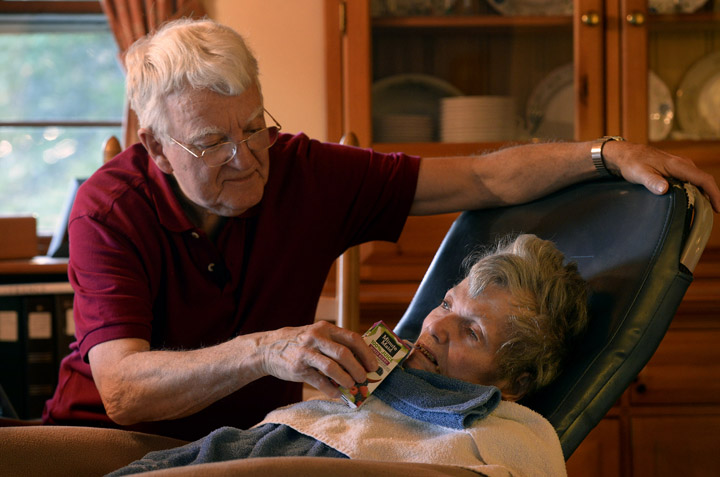 Larry gives Kathy a drink from a juice box during dinner
Shawn Patrick Ouellette / Staff Photographer
"It's hard to grasp the concept of the end," he said. "Death is there waiting and it keeps you dangling mercilessly. But on the other track, you have to live as normal as possible."
Still, he can sense the end coming. Kathy is down to eating one meal a day. Her legs are reed-thin. Her face is drained of color.
This summer, on a sunny weekend day, all of her children and grandchildren came to visit. They didn't say goodbye, but they knew it might be the last time they were all together.
They each had private time with their mother and grandmother.
Brown said the time has been hard because her own children do not know her mother.
"You can show pictures and tell stories, but they just don't have the connection. And that's the tragedy."
The disease has robbed them of a grandmother.
That's where Alzheimer's trumps other diseases of old age. Elderly people unafflicted by the disease might deteriorate physically, but their minds remain sharp.
Still, there is reluctance by lawmakers and society to fully embrace finding a cure, or even an effective treatment, for the disease. It was only earlier this year that Maine released its first-ever plan to address Alzheimer's. The first-of-its-kind national plan was completed just last year.
"It's on people's radar more than ever, which is good, but if you think about how much is spent on other diseases, Alzheimer's is way behind," said Coleman, the geriatrician at MMC who worked on the national plan.
Larry would love to see a cure. Not for Kathy, but so others don't have to live as she has for the last 20 years.
On a recent morning, Carlisle, Larry's social worker, came to the house to talk to him about how he's doing. She coached Larry on signs of the end. She counseled him about something hospice workers call the "comfort pack."
The comfort pack is a series of powerful medications designed to make Kathy's final hours as painless as possible. Larry has filled the prescriptions. They are in the refrigerator for whenever he needs them.
Brown, the Roys' daughter, said she's gone through stages of frustration, anger and sadness but, "I'm very at peace at where she's at."
Larry is getting there, too.
Another dinner has wrapped up in the Roys' home. It's about 9:30 on a late summer night, three hours after dinner started.
Larry looks at the time and realizes he needs to get Kathy ready for bed. He disappears into the bathroom and comes out with an electric toothbrush. He spends a few minutes using it to remove any food that was stuck in her mouth.
He takes a warm, wet washcloth and lightly cleans her face.
He wheels her into the bathroom and closes the door. Nothing is private between Larry and Kathy anymore, but some things must remain private to the world.
When they come out a few minutes later, Kathy has a new diaper on and clean pajamas.
Larry wheels her to her bed and gently lifts her from the chair to the mattress. He places pillows all around her in case she rolls and one between her legs so her bones don't rub together.
He leans in to give her a kiss.
Minutes later, Larry is back in the dining room, picking up from dinner.
Within an hour or two, he'll climb the stairs to his bedroom, alone.
In the morning, he'll walk downstairs to see if Kathy makes it through another night.
She does, but there won't be many more.
A few weeks later, at 11:24 on a warm, sunny morning, Kathy will pass in the same peaceful manner as she lived. Her husband will watch her take her last breath, reminiscing about their life together, holding her hand.
Kathy Roy died Thursday, Oct. 3.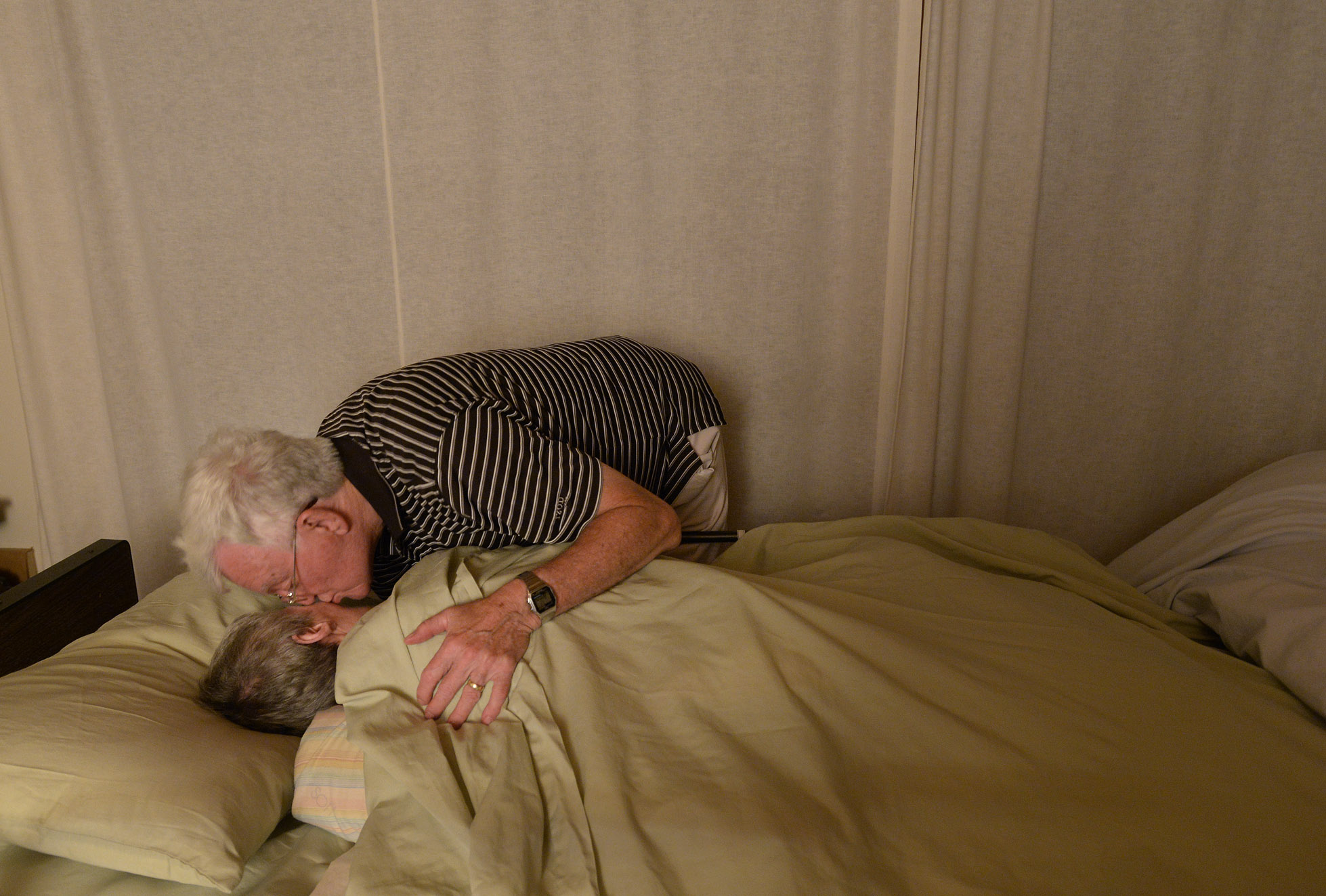 Those familiar with the effects of Alzheimer's often refer to it as "the long goodbye." Kathy Roy was diagnosed when she was 57 years old and, at 75, clearly defied the odds since the average life expectancy after a diagnosis is 4 to 8 years. The secret to her longevity, her nurses say, is her husband's love. Shawn Patrick Ouellette / Staff Photographer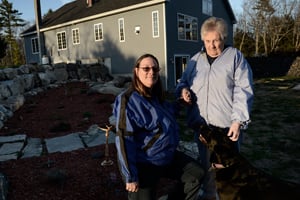 Part II. Liz Havu
The lifeline who lets mom stay at home
When Liz Havu's mother lost her independence to dementia, both of their lives changed dramatically. A devoted daughter found herself among the 190,000 caregivers in Maine who struggle with the burdens of physical, emotional and financial costs.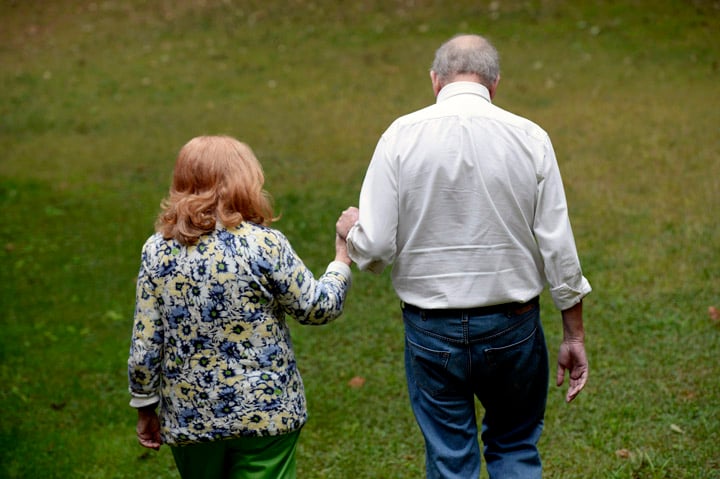 HIGH COSTS, LOW PRIORITY
Afflicted with Alzheimer's, Bob O'Keefe says he 'can't imagine not knowing' about his ailment. The revelation has meant greater awareness for him and his family, and opened up a world of resources.

Further Discussion
Here at
PressHerald.com
we value our readers and are committed to growing our community by encouraging you to add to the discussion. To ensure conscientious dialogue we have implemented a strict no-bullying policy. To participate, you must follow our
Terms of Use.
Questions about the article?
Add them below and we'll try to answer them or do a follow-up post as soon as we can.
Technical problems?
Email them
to us with an exact description of the problem. Make sure to include:
Type of computer or mobile device your are using
Exact operating system and browser you are viewing the site on (TIP: You can easily determine your operating system here.)