To this day, I wonder: Did she know?
The day my dear mother first picked up a shell she'd brought home from the beach and carefully printed the place ... the date ... those in attendance ... did she have an inkling this might someday serve as more than just a charming collection of mementos from those outings she treasured above all others?
Joette's – Osterville June 18, 2001 – Emily, Madeline, Dory, Matthew ...
Meg, Kelly, Emily, Ralph, Maripeg, Will, Sam – Duxbury 7/23/97 ...
6/8/01 – 1st day, Meg, Mom ...
Wauwinet, Nantucket – 50th anniversary ...
Dorothy Ann (O'Brien) Nemitz was a note taker. A trip to the supermarket or a trip to Europe, it didn't matter – the woman wrote down everything.
"Wait!" she'd say, holding up her hand the moment a conversation veered ever so slightly toward the future. "I need to make a list!"
It was her way of bringing order to a world that included eight children, 15 grandchildren, two great-grandchildren, a husband who adored her for 57 of her 81 years and a circle of loyal friends who considered her a living saint. Without a list, there might be chaos – and that she simply could not tolerate.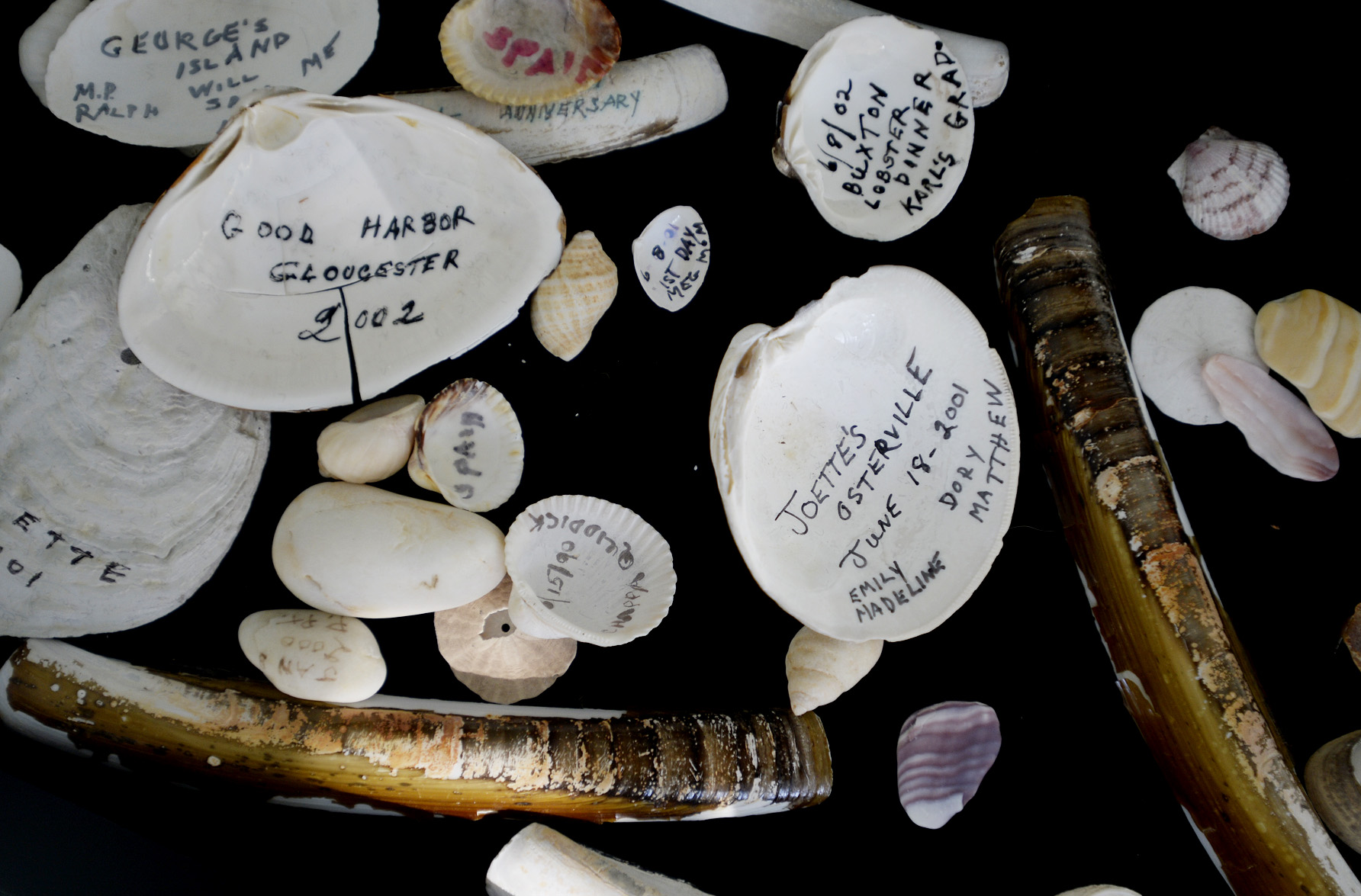 Dorothy Nemitz kept shells as mementos, noting facts about where and when she found them, and whom she was with at the time. Did she have an inkling this might someday serve as more than just a charming collection of mementos from those outings she treasured?
Shawn Patrick Ouellette / Staff Photographer
Yet, as early as her mid-60s, chaos hovered on the edges of her otherwise vibrant, often hectic daily life. A wrong name, a misplaced set of keys, a favorite story with a sudden hole in the middle – she'd wave it all away with that self-deprecating chuckle, that exaggerated knock on the side of her head and that one-size-fits-all apology, "I'm sorry, dear. I must be having another senior moment!"
We, her grown children, would laugh along with her, but privately we'd compare notes and fret that the lapses were becoming more frequent, more pronounced, harder to sweep beneath a euphemism.
My father, who worked full-time as a college professor well into his 70s, saw it too. Reluctant to discuss it at first, he eventually told us not to worry, that he would be there to care for her if and when the time came.
Then the time came.
It was a Friday afternoon in May of 2005. I called to see if the Mother's Day flowers I'd sent had arrived, but from the moment she picked up the phone, Mom sounded disoriented, confused, maybe even a little frightened.
"Is Dad there?" I finally asked. "Can I talk with him for a second?"
"No, dear," she replied. "He's at the hospital."
"The hospital? Why is he at the hospital?" I said, trying to mask my concern.
"I'm ... I'm not sure. He's there with Meg and they said they'll be awhile, so they told me to come home and wait here."
My sister Meg, a registered nurse, had stopped by that morning for a visit and noticed that Dad looked awful. Yes, he finally admitted, his abdomen felt like it was on fire.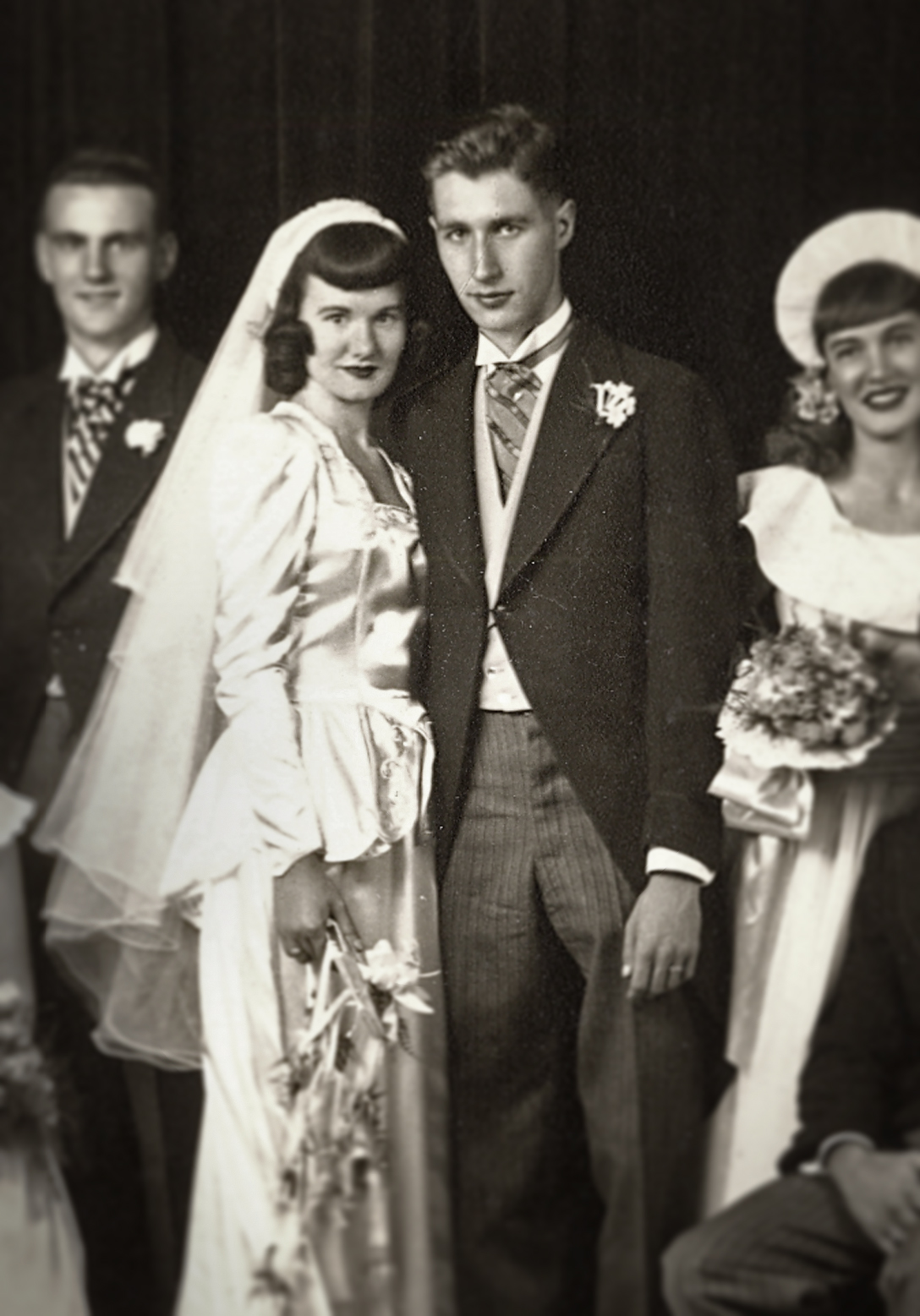 William and Dorothy Nemitz on their wedding day in Boston, 1948. Dorothy died of Alzheimer's in 2008.
Photo Courtesy Bill Nemitz
He wanted desperately to go to work that day – he had one last class to teach at Babson College before officially retiring at age 77. But Meg, her diagnostic instincts in overdrive, put her foot down and insisted that they go immediately to Massachusetts General Hospital in Boston.
The grim diagnosis: transitional cell carcinoma, an incurable cancer of the urinary system.
We quickly sold their townhouse in Wellesley, Mass., moved Mom and Dad into "New Horizons," an independent living community in nearby Marlborough, and braced ourselves for the end of Nemitz Family life as we'd forever known it.
"Who's going to take care of your mother?" he asked us imploringly.
"She'll be fine," we reassured him. "We promise."
Four short months later, Dad died. As rapidly as he had declined over this final, truncated chapter of his life, so had my mother.
By now, Mom had been formally diagnosed with Alzheimer's disease. Thus we knew, even before the sympathetic-but-firm memo arrived from the retirement home's front office, that she could not remain there on her own.
Still, my mother was lucky: Dad had left her with ample resources to afford, at just under $6,000 per month, the residential Alzheimer's facility we finally chose.
Mom was also blessed with a steady stream of visitors. Not a week went by when one or more children, grandchildren and even great-grandchildren didn't appear at her bedroom doorway with flowers, a box of Whitman's chocolates, a long, everlasting hug.
Some days, she'd jump up from her partially completed crossword puzzle, run to us with open arms and exult in that oh-so-Boston accent, "Oh! Oh! It's my little dah-lins!"
Other days, she'd seem lost in the fog, the depression and at times, the anger, at a world that had so suddenly and inexplicably turned upside down.
"I feel like I'm in prison," she muttered one day as I guided her along the circular path through the facility's beautiful outdoor gardens.
"Mom, look at these roses," I gently countered. "How could something so beautiful be inside a prison?"
Pointing to the perimeter fence, she shook her head no. "It's a prison," she said. "I'm in a prison."
I learned, as did my siblings, to deflect rather than disagree. And if necessary, to trade the truth for what she wanted to hear.
"Billy, I have no checks! I just checked my night table drawer and I have no checks!" she told me frantically one evening from the phone in her room.
I could have told her, "Mom, you don't need checks anymore. I'm paying all your bills for you, so you don't have to worry."
Instead, on my next visit, I handed her a book of old checks from an account that had long ago been closed. Just as I knew she'd never actually use one, I also suspected that just having them there would put her mind at ease. It worked.
Alcohol required a similar strategy.
A longtime lover of the dry Tanqueray martini on the rocks with two large olives, Mom didn't know enough to miss her nightly cocktail inside the alcohol-free Alzheimer's unit. But take her out to dinner and walk by the bar and she'd insist – no, she'd demand – that a "mart" come along with her dinner.
The problem was alcohol aggravated Mom's "sundowning," that dreaded period in the late afternoon and evening marked by disorientation, fatigue, mood swings and, if you tossed a dry martini into the mix, outright hostility.
The solution: Give Mom her drink, but replace the gin with water.
"Perfect!" she'd proclaim, smacking her lips as she reached for the olive.
The secret to coping with a loved one with Alzheimer's, we came to realize over three long years, was to meet Mom in her reality rather than drag her kicking and screaming into our own.
Her lists long gone, her beloved crossword puzzles increasingly blank, her universe shrinking a little more each day, I often found myself reliving in reverse those long-lost days when I was scared and confused by a world I didn't understand and she was there to promise everything would turn out fine.
To Mom, of course, the only truly acceptable end to this nightmare was to be with Dad again. At times, she seemed fully aware he was gone; other times, she spoke about him as if he'd just left the room. Either way, she missed her "Lovey" terribly, as did we all.
"Is he dead?" she'd ask out of the blue.
"Yes, I'm afraid he is," I'd reply. "But he's waiting for you."
Then one day in 2008, Mom simply stopped. Her voice – including her trademark "Whoopee!" – went silent. Her appetite vanished. Her "little dah-lins" still came, but the hint of a smile in her Irish eyes was all she could muster to greet them.
We moved her to a skilled nursing facility, where her decline accelerated. Yet even then, as my wife and I sat with her one quiet afternoon, Mom's face suddenly lit up, her eyes flew open wide and she stared straight into our eyes for several precious minutes in what can only be described as utter rapture.
"I will never forget that for as long as I live," my wife tells me to this day. "It was as if she was seeing us for the first time."
The end came quietly. My phone rang as I drove my daughter home from her all-night vigil at my mother's bedside, and I could see it was Meg on the line.
"She's gone," said Meg, the true hero in this story. "She's finally free."
As I sit here writing this five years later, it occurs to me that today – Oct. 2 – is my parents' 65th anniversary.
How perfect. I can see Dad pouring the marts. I can hear Mom yelling "Whoopee!" And I know in my heart they've never been happier, wherever they may be.
I hope it's a beach.
HIGH COSTS, LOW PRIORITY
A hunger for answers collides with inadequate funding
A debilitating disease cries out for research toward a cure as the increasing burden of care threatens an economic crisis.

Further Discussion
Here at
PressHerald.com
we value our readers and are committed to growing our community by encouraging you to add to the discussion. To ensure conscientious dialogue we have implemented a strict no-bullying policy. To participate, you must follow our
Terms of Use.
Questions about the article?
Add them below and we'll try to answer them or do a follow-up post as soon as we can.
Technical problems?
Email them
to us with an exact description of the problem. Make sure to include:
Type of computer or mobile device your are using
Exact operating system and browser you are viewing the site on (TIP: You can easily determine your operating system here.)