FACETS OF CAREGIVING | August 18, 2013
How caregivers can affect the economy
Downtime and loss of production cost U.S. employers more than $33 billion per year, the AARP says. But some Maine companies offer innovations that may actually reduce losses.
T
ake a Maine business with 100 employees, whose median age is 45 years old. About 12 of those workers spend between 10 and 20 hours a week helping care for an aging adult and, because of that, won't be able to come into work about four days throughout the year.
When they're there, though, they're not always working. They're making phone calls to doctors, emailing their siblings, searching for help online and simply feeling overwhelmed by stress, said Nova Ewers, director of the workplace program at Beach Glass Transitions, a South Portland-based senior care consultant.
In a year, that company will lose between $28,000 and $34,000 in productivity because of caregiving and will see health care costs increase by 8 percent to 18 percent because of caregivers' stress and injuries, according to calculations by Beach Glass.
Nationally, caregivers annually cost employers more than $2,000 each and more than $33 billion in total, according to a study by the AARP. Companies pay an extra $13 billion per year in health care for caregiving employees, who are twice as likely to report health problems – from depression to lung disease – than their non-caregiving counterparts, studies show.
Still, few employers offer benefits specific to eldercare and there is no indication of a trend toward providing more of those services, judging by the 2013 benefits report by the Society for Human Resource Management.
Through the federal Family Medical Leave Act, all companies with at least 50 employees must allow a 12-week, job-protected unpaid leave of absence every year to employees who have worked there for 12 months and need to take care of a sick family member.
Maine is one of 17 states with its own medical leave law that expands coverage beyond the federal law, according to the National Conference of State Legislatures.
The Maine Family Care Act requires private employers with at least 15 workers, municipal governments with 25 or more employees and all state agencies to provide 10 weeks of unpaid leave every two years to employees who have worked there for 12 months in a row.
Some states are more generous. Connecticut offers unpaid leave for up to 16 weeks in a two-year period. In California, employees get six weeks of paid leave at 55 percent of their weekly salary, up to $1,067.
About a quarter of employers nationwide offer leaves beyond the state and federal requirements, according to the Society for Human Resource Management report.
Some of Maine's biggest employers are among them.
L.L. Bean allows workers to take a leave of absence for up to six months and Scarborough-based Hannaford Supermarkets will consider granting up to a year, said their spokespeople.
Both companies also provide eldercare referral services, a benefit that only 8 percent of employers offer, the report said.
L.L. Bean is among the 2 percent of employers that offer geriatric counseling. At least once a year, the Freeport-based company holds a series of four hour-long sessions called "Taking Care of Mom and Dad, and Me," in which experts address Medicare, legal issues and dementia, said spokeswoman Carolyn Beem. Recently, she said, the company has begun offering information sessions specific to Alzheimer's disease.
Two percent of companies also reported providing access to backup eldercare services, a benefit available at Portland law firm Pierce Atwood.
The firm contracts with a company that provides emergency care services when regular care falls through and subsidizes 80 percent of the cost, said benefits specialist Jane Dobrovolny.
Because of its commitment to caregivers, Pierce Atwood was tapped last year by Beach Glass Transitions to participate in a pilot program for the workplace. Along with regular informational luncheons on eldercare, Beach Glass offered employees a few hours of free private consultations at the office and additional counseling at a discounted cost.
About 5 percent of the firm's work force took advantage of the benefit, Ewers said.
Depending on the company, Beach Glass predicts it can reduce losses from caregiving by 35 percent to 75 percent.
At the beginning of this year, Beach Glass replicated the program with St. Joseph's College in Standish and Phillips Exeter Academy in New Hampshire. It plans to bring on two more companies this year, and then double the number of companies they serve, to 10, in 2014.
"That's the minimum," Ewers said. "We're really ready to ramp it up."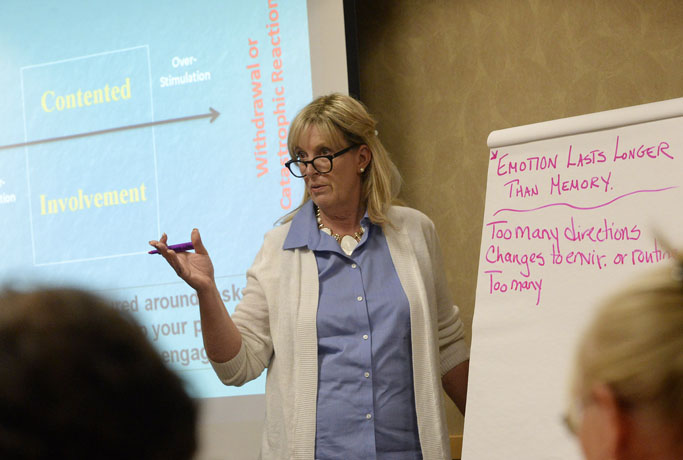 FACETS OF CAREGIVING
The Maine Savvy Caregiver program provides essential tools, but the loss of funding puts its sustainability in doubt.

FACETS OF CAREGIVING
Experts say caregiver support services can save Maine taxpayers money by delaying the need to place elderly residents in nursing homes. So why is it so difficult to secure funding?

Further Discussion
Here at
PressHerald.com
we value our readers and are committed to growing our community by encouraging you to add to the discussion. To ensure conscientious dialogue we have implemented a strict no-bullying policy. To participate, you must follow our
Terms of Use.
Questions about the article?
Add them below and we'll try to answer them or do a follow-up post as soon as we can.
Technical problems?
Email them
to us with an exact description of the problem. Make sure to include:
Type of computer or mobile device your are using
Exact operating system and browser you are viewing the site on (TIP: You can easily determine your operating system here.)