T
he reverse mortgage industry was born in Portland in 1961 when Nelson Haynes of Deering Savings & Loan approved a loan for Nellie Young, the widow of his high school football coach, to help her stay in her home despite the loss of her husband's income.
Reverse mortgages hit their peak in the U.S. amid the financial turmoil of 2009, but have been on the decline in recent years. Now, new changes to the federal rules governing reverse mortgages could make volume shrink even more.
A reverse mortgage, available to borrowers who are at least 62 years old, pays out the equity of a home through a lump sum or installments. The payout gets repaid when the borrower dies or moves out of the house for 12 months or longer.
The borrower still must pay property taxes, maintenance and homeowners' insurance on the property. A failure to pay property tax automatically puts a lien on the property.
"There has been a reduction in loans made in Maine, but the entire market for housing and lending has cooled down," said Will Lund, superintendent of Maine's Bureau of Consumer Protection. "The process became less flexible in providing a reverse mortgage. The borrower needs to meet very strict guidelines."
Nationally, only 2 percent to 3 percent of eligible homeowners currently hold a reverse mortgage. Fewer than 70,000 new reverse mortgages are originated in the country each year, according to a 2012 report to Congress by the Consumer Financial Protection Bureau.
In Maine, 297 reverse mortgages were approved in 2012. Nationally, 54,676 cases were approved last year, according to the U.S. Department of Housing and Urban Development, or HUD.
"We don't see a lot of consumer complaints on reverse mortgages. We have seen some foreclosures on reverse mortgages, but not a lot," Lund said. "Reverse mortgages take 17th or 18th place out of the top 20 problems we deal with. It's not a big problem."
In 2004, Elna Davis, 79, of Jonesport, got a reverse mortgage on her home and was told to use the $28,000 she got wisely. And she did. She paid off bills, bought a used trailer and a used car and did maintenance on her home.
"We were sitting on value in our house. We were able to do so many things all because of that financial freedom," Davis said. "We're trying to be frugal and make the money last. We've done a good job – the most luxurious thing we bought was a water purifier for the trailer."
Davis' husband now is suffering from emphysema even though he never smoked, she said. They've got their names on a waiting list for a one-bedroom apartment and have no regrets that they have used the equity in their home over the last nine years.
"It's lifted my burdens. It made a difference in our lives. It gave us a light in the end of the tunnel," Davis said.
She said she's recommended reverse mortgages to friends and they followed her advice.
Guidelines get more strict
Now, however, fewer seniors may be able to qualify under new federal laws that went into effect on Oct. 1.
Under those changes, the federal government limited the amount seniors can borrow against their house, imposed higher mortgage insurance fees, and set requirements for a financial assessment for all borrowers to make sure they have the ability to meet the terms of the reverse mortgage.
Borrowers will have to prove they have the funds to pay the taxes and the insurance on their home over their lifetime. If not, they will have to set aside those funds upfront, which could suck away much of the loan's proceeds.
Under the changes, seniors can choose between a lump sum payout, using a fixed-rate loan, or a line of credit that is structured as a variable-rate loan. People who use a fixed-rate loan to withdraw all the money upfront will be limited to 60 percent of the value of the home. Only borrowers who choose the line of credit may access more money over time.
The changes were aimed at discouraging large disbursements that can leave borrowers strapped later if the proceeds are used up too quickly, according to HUD.
"It's human nature. Bad things happen when we have a great amount of money in a lump sum," Lund said. "Consumers often don't make the right decisions when it comes to credit."
The amount of money borrowed still largely depends on the age of the youngest borrower, the value of the home and the interest rate.
The changes also came because HUD was concerned by the number of borrowers who had fallen into technical default because they could no longer pay the taxes, insurance or other property charges.
A record 54,000 reverse mortgages, or 9.4 percent, were in default last year, up from 8.1 percent in 2011. That's higher than the average mortgage default rate for residential mortgages of about 7 percent, according to the Mortgage Bankers Association.
Who is the typical customer?
The popularity of reverse mortgages started to rise in 2001 and hit a peak of 115,000 nationally in 2009. That number has since declined for three straight years.
Stephen Eastman, an official with Secure 1 Lending in Gray, said the average borrower has changed in recent years.
Shawn Patrick Ouellette / Staff Photographer
"Before, the demographic was someone who didn't have a lot of options. Someone who could not afford to stay in their house," Eastman said.
"Now, the typical customer is someone who says: 'I have all this equity in my home.' It used to be a last resort option, but now, people are outliving their retirement savings or they want to live more comfortably, supplementing their retirement income," Eastman said.
In 1990, the average age of a reverse mortgage borrower was nearly 77. That fell to 73 in 2010, according to HUD.
Eastman said there are several misconceptions about reverse mortgages, the most common of which is that the borrower loses title to their home. The title actually stays in the borrower's name and can be transferred to heirs – but only if there's any value still in the house after the loan and fees are repaid.
When a borrower dies, or leaves the home for 12 months or more to enter a nursing home, for example, the loan is called. The house is usually sold and the sale proceeds go to covering the loan, plus the fees and interest that have accrued over time.
All proceeds beyond the amount owed belong to the borrower's estate, so any remaining equity – if there is any – can be transferred to heirs. No debt is passed along to the estate or heirs.
"I make sure I'm very upfront about it: You're going to be using up some of the value of your home or some of the inheritance to your heirs," Eastman said. Other advisers also recommend against reverse mortgages if the borrower intends to move within five years, or if they have family members living with them on a long-term basis.
If a married couple takes out a reverse mortgage, both names must be on the loan. That way, either one can remain in the house without repaying the loan amount if the other spouse dies or moves out.
EXPERT: don't hurry the process
Eastman said he has processed about 1,600 reverse mortgages in Maine and New Hampshire.
His advice to anyone considering a reverse mortgage is don't hurry the process, bring along someone to hear about the details of the product to get another opinion, and ensure that the home you want to mortgage is actually suitable to grow old in.
"The house has to be conducive to staying for the long term," Eastman said.
Although the HUD changes will reduce the number of people who qualify for reverse mortgages, Eastman said he agrees with the moves.
"I think the changes are good. Some of the people who may be turned down will be helped in the long run. If a person can't afford to be in their home today and a reverse mortgage only would give them a few years of money, they shouldn't get approved," Eastman said.
People who get turned down may be forced to make changes in their lives, such as moving into a cheaper house or an apartment, but that could be a smarter financial move for the long term, Eastman said.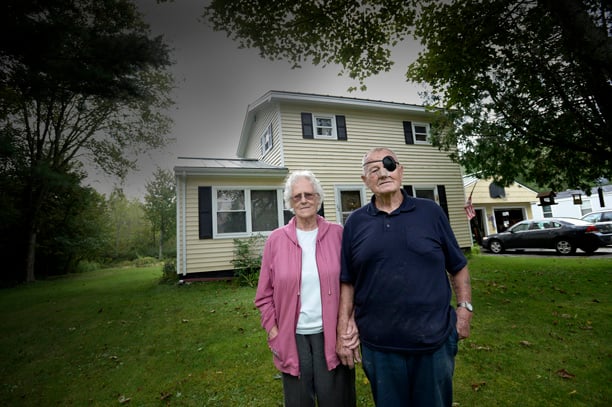 PART IV. CEDRIC AND PAULINE LONG
Cedric and Pauline Long were robbed of their retirement dreams by opportunists who were uncomfortably close to home.

Protecting your money
Experts encourage everyone to provide financial and medical powers of attorney to someone he or she can trust.

Further Discussion
Here at
PressHerald.com
we value our readers and are committed to growing our community by encouraging you to add to the discussion. To ensure conscientious dialogue we have implemented a strict no-bullying policy. To participate, you must follow our
Terms of Use.
Questions about the article?
Add them below and we'll try to answer them or do a follow-up post as soon as we can.
Technical problems?
Email them
to us with an exact description of the problem. Make sure to include:
Type of computer or mobile device your are using
Exact operating system and browser you are viewing the site on (TIP: You can easily determine your operating system here.)