T
he day last August that Dawn Ducharme was diagnosed with vascular dementia and Alzheimer's disease was the day her daughter, Liz Havu, says she began to reinvent herself.
A secretary by trade, Havu suddenly found herself working as a personal driver, housekeeper and cook, performing nursing duties and financial planning – all for her mother and all unpaid. Like one in five adults in the country, Havu, 52, had become a caregiver.
CONSIDER THIS

With a median age of 43.5 years - the highest of any state in the nation - Maine faces a surging population of aging seniors who will need support and care. But an examination by the Portland Press Herald/Maine Sunday Telegram has found that the state is falling short of meeting the needs of today's elders, and is not ready for the explosive growth that looms in the senior population.
Many older Mainers today are vulnerable to financial abuse and exploitation, can't find appropriate housing or transportation, and are heavily dependent on Social Security income, which is inadequate to meet their needs. Others are struggling to put food on the table or find the home-care services that would allow them to live independently.
The state of Maine' s aging plan documents the scope of these problems and suggest solutions. But a lack of leadership and resources renders the plan ineffective, and exposes the state to forces that threaten to damage its economy and quality of life, not only for seniors but for younger generations as well.
"I went, 'Holy crap. How the hell am I going to do this?'" she says.
Not that her mother's diagnosis came without warning. Ducharme, 79, who had lived for over a decade with her daughter's family in Hollis, had been leaving signals. She was putting dirty dishes into the cupboards as if they had been cleaned. She was leaving the front door wide open. A career bookkeeper, she was writing bad checks and had signed up for three life insurance policies.
Havu had dismissed her mother's behavior as odd, until Ducharme drove her car into a ditch in Limerick and lost her license. Havu had her take a geriatric assessment and three months later the results came: Ducharme shouldn't be left alone for very long anymore, the doctor told her.
"I felt like I was kicked in the gut," says Havu, who had just cut back her hours as an administrative assistant at the University of New England, so she could drive her mother to doctor's appointments and the hair salon. But she would need to do much more than that.
The strain on family caregivers is creating a kink in the nation's eldercare system. While a trend toward delaying placement in expensive nursing homes benefits both taxpayers and those in need of care, its success depends on family members filling the gap between the services available to their aging relatives and what they need to stay happy, healthy and safe in their homes.
The duty often arises unexpectedly and comes at a cost. From the stress of coordinating care to the financial impact of cutting back on work, a unique set of complications faces the growing number of spouses and children helping keep their relatives at home. Although there are some government programs to support them, the services aren't keeping up with the increased reliance on caregivers.
The problem is compounded by the aging population of Maine, the oldest state in the nation. The ratio of people who can provide care to those who need it has been on a steady decline since 2005 and a steeper drop is coming, according to a 2012 report done for the state's Office of Aging and Disability Services.
Meanwhile, some 190,000 caregivers in Maine are providing $2.3 billion worth of care annually, according to the AARP. Havu never imagined she would be one of them.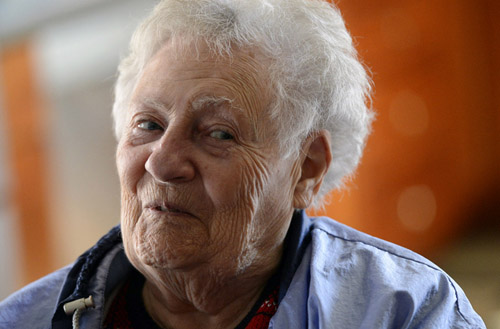 Dawn Ducharme, the woman with the sharp sense of humor who once played cards every Friday night, is already gone, says her daughter, Liz Havu. Even the tone of her voice has changed, Havu says.
Shawn Patrick Ouellette / Staff Photographer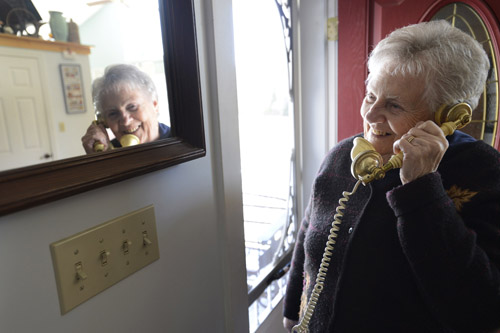 Everyone in Ducharme's family died before they turned 70, Havu says. She figured a heart attack would kill her mother before her mind started to go. Now, she prays for Ducharme to die – not for herself, but for the woman her mother once was.
"She never ever wanted to be a burden," Havu says.
Ducharme also never wanted to be in a nursing home, and her daughter told her she'd never go. Havu is doing everything she can to keep that promise.
From the doctor's appointment last August in Portland, where her mother received her dementia diagnosis, she drove straight to Southern Maine Agency on Aging in Scarborough and signed her mother up for Meals on Wheels. From there, they went to Truslow Adult Day Center in Saco and got her into day care on Mondays and Fridays.
On days Durcharme was home alone, Havu arranged for a friend's teenage daughter to come over after school and check on her. She had her son, who was in college in Florida, call between classes to walk his Mimi through microwaving her lunch. When Havu found out a student at the University of New England was looking for temporary housing, she offered to rent her son's room for cheap, in exchange for making Ducharme breakfast in the morning.
Havu knows the system she has in place isn't going to work forever. She knows that as long as her mother is alive, she's going to get worse and need more.
"I haven't stopped long enough to figure that out right now," she says.
in her words
an interview with Liz Havu
When Havu started having to take sick days to get her mother to doctor's appointments, she decided she needed to change her work schedule. She transferred from the campus life office to a part-time job as an administrative assistant in UNE's College of Osteopathic Medicine, so she could have off every Wednesday – Mother's Day, she calls it.
Ducharme has had a hair appointment every Wednesday for as long as Havu can remember. When she lost her license and couldn't drive herself, her daughter couldn't bear to see her give it up.
One Mother's Day in April, at the salon, Havu is talking to the hairdresser, when she looks over to her mother who's sitting quietly in a chair, zipping and unzipping her pocketbook.
"Can I fix your sweater?" she says. "You're crooked."
Today the buttons are in the wrong holes. Sometimes she puts on four shirts or doesn't change her underwear. Havu knows it won't be long before she has to bathe and dress her, but she's been putting it off, because she knows it will be hard for her mother and hard for her.
As Havu redoes the buttons, she spots food on the front of the sweater. It would have to go in the wash, she says.
Practically, caring for her mother is a lot like raising her son, Havu says, but emotionally it's the opposite – watching someone grow old rather than grow up.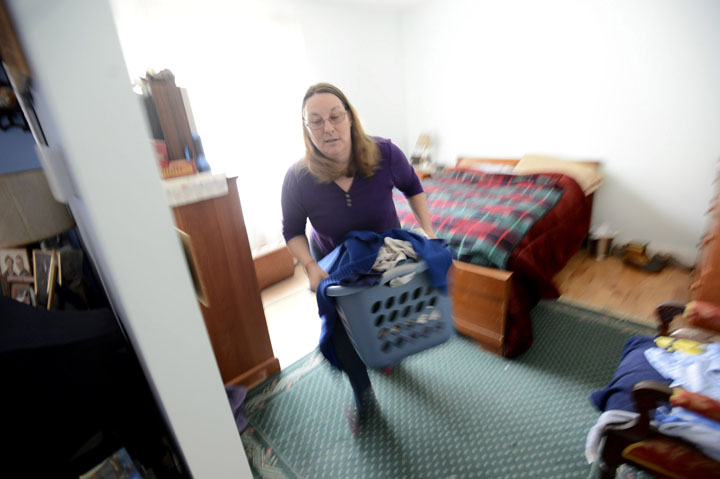 "I'm not a housewife," says Liz Havu, "I hate it." But her role as caregiver finds her almost constantly on the go, juggling medical appointments, errands, housework and financial responsibilities. Wednesday's are "Mother's Day," when Havu takes her mom to the beauty parlor and out to lunch at their favorite diner. At right, Havu organizes her mother's prescriptions for the entire week.
Shawn Patrick Ouellette / Staff Photographer
From the salon, she drives her mother to the bank, where she cashes two checks for $2 and change that veterans' groups sent her to try to solicit larger donations. Havu makes sure she doesn't send money back anymore.
They have lunch at the Tory Hill Café in Buxton, where Havu gets the grilled cheese and pea soup and so does Ducharme, who adds to the stains on her sweater spooning the soup into her mouth.
A few years ago, a friend of Havu's noticed that in restaurants, Ducharme would always order the same meal as her daughter. They thought it was because her eyes were bad and she couldn't see the menu, not because she couldn't figure out what to get.
Back at home, Havu puts laundry in the machine and cleans her mother's bathroom, wiping down the toilet seat with latex gloves on.
"I'm not a housewife," she says. "I hate it."
Still, she buzzes about as the sun pours in from the picture windows that stretch up the high walls. Shelves by the ceiling display antiques – metal signs, oil cans and feed bags. Havu and her husband built the house five years ago, because Ducharme was having trouble getting up and down the stairs at their old place. Here, everything she needs is on one level.
Havu added some frills for herself, too. She turns on the stereo as soon as she gets home. The music keep her sane, she says. Jackson Browne is her favorite.
But it wasn't always enough to keep her moving. Right after her mother's diagnosis, Havu could barely get out of bed in the morning – a feeling she hadn't had since her father died in 2000. She forced herself up anyway, but knew she needed help and went to her doctor. She told him she was depressed.
It's a common problem among caregivers, who are about twice as likely as the general population to report their health as fair or poor, and, of those, more than 90 percent say that they're depressed, according to the Evercare Study of Caregivers in Decline. More of than half of them say their health problems, including headaches, lack of sleep and panic attacks, have affected their ability to provide care.
"Sometime it's a little stressful, but you just deal with it."
Havu was prescribed an antidepressant, and things became more manageable. Seeking help when she needs it, she says, is the key to keeping her head above water. She's in a caregiver support group that meets twice a month. She asks her friends to watch her mom when she can't. She leans heavily on her husband, Dwight – the blind date she married less than a year later. Her backbone, she calls him.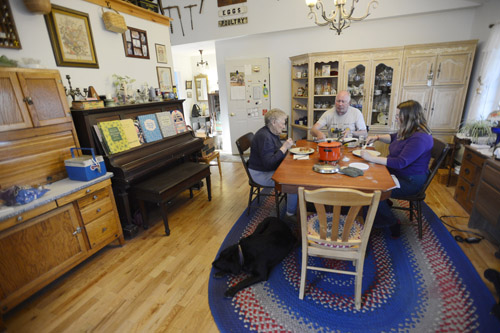 Shawn Patrick Ouellette / Staff Photographer
Dwight gets annoyed by Ducharme, how she stands and stares at his every move, but, like everything, he takes it in stride.
"Sometime it's a little stressful, but you just deal with it," he says.
That demeanor keeps his wife calm, too.
"I haven't broken down," she says, folding laundry in her bedroom. "I'm sure there are going to be moments where I want to sit and cry in my soup. Right now, we're OK."
Ducharme still stays home alone for several hours every week, though the Havus' black Labrador, Dixie, is always hanging in her shadow. She talks to the dog almost constantly, stroking her coat and scratching her head.
"You're a funny pooch," she tells her. "You're a good girl."
She drops bits from her Meals on Wheels for her, too, and takes the dog on walks to pick up sticks in the road.
"It keeps her occupied," Ducharme says about the dog.
She, however, has things to do. On Thursdays, Ducharme gets her work gloves ready and, after the garbage truck comes, rolls the trash barrels from the bottom of the driveway to the top. She folds laundry that her daughter later refolds and sits on the porch swing, listening to the wind chimes and watching the planes.
"I counted 23 one day," Ducharme says.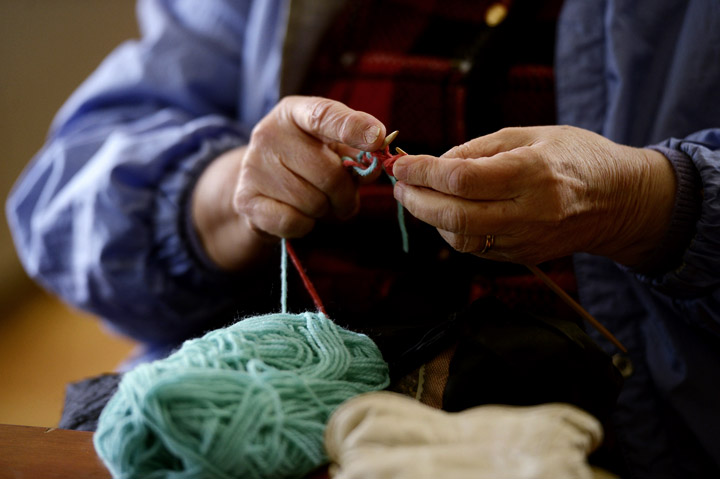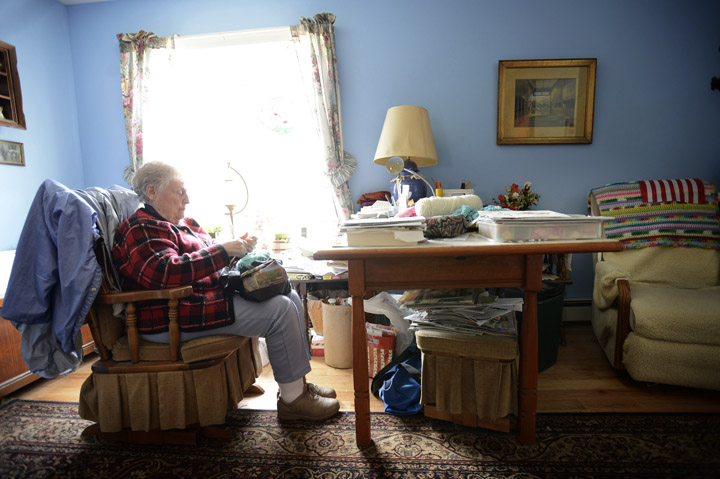 Dawn Ducharme, above, who was diagnosed last year with vascular dementia and Alzheimer's disease, knits while at home in Hollis. Her 52-year-old daughter, Liz Havu, at top, became her primary caregiver, doing all she can to keep a promise not to place her mother in a nursing home. Ducharme used to be able to knit a mitten a day; now she makes only small shapes that she starts but never finishes.
Shawn Patrick Ouellette / Staff Photographer
When she isn't petting Dixie, she pulls out knitting needles and yarn from a bag, makes a few stitches then puts everything away, a process repeated every few hours.
She used to be able to finish a mitten in a day, her daughter says. Now, she works on the six-by-six squares that Havu asked her to make.
Getting people with dementia to do things they enjoy is one of the core teachings of the Savvy Caregiver class, a training program offered through the Area Agencies on Aging. Havu enrolled in the class on the recommendation of Ducharme's doctor.
"Everybody, even if they're experiencing cognitive losses, can contentedly be engaged in activities," says Ann O'Sullivan, who leads the class at Southern Maine Agency on Aging. "They will have a better day. Right off, we know that means the caregiver will have a better day."
Havu sees how the knitting is therapeutic for her mother and herself. She plans to crochet the squares into quilts to give Ducharme's three grandsons after she's gone. Havu's never told Ducharme what they're for and her mother's never asked.
For now, Havu keeps the squares in a mattress bag in the basement. Some are long strips. Others curve like a sock. None of them is finished.
"You can tell when she's been having a good day and when she's been having a not-so-good day," she says, judging by their shape.
"The woman that we knew when she was whole would not like the woman she is today."
The function and cognition of people with vascular dementia can wax and wane on a daily basis, says Dr. Heidi Wierman, a geriatrician at Maine Medical Center in Portland. Typically, they get to the point where they can't be home alone more quickly than people with Alzheimer's disease, whose decline takes place over 10 years on average, she said. It's often half as long for people with vascular dementia. Sometimes, she says, it only takes two or three years.
Like many caregivers, Havu has power of attorney and directions about what to do when Ducharme's health declines. The way Havu sees it, if her mother gets a urinary tract infection, she'll have it treated. If she gets pneumonia, she won't. The mother she remembers wouldn't want it.
"The woman that we knew when she was whole would not like the woman she is today," Havu says.
The mother who raised her – the one with a sharp sense of humor who played cards every Friday – is already gone, Havu says. Even her tone of voice has changed. If she starts to get combative and doesn't remember who her daughter is, Havu will consider putting her in a nursing home. Until then, she'll figure out a way to make it work at home.
"I have to," she says. "I don't have a choice."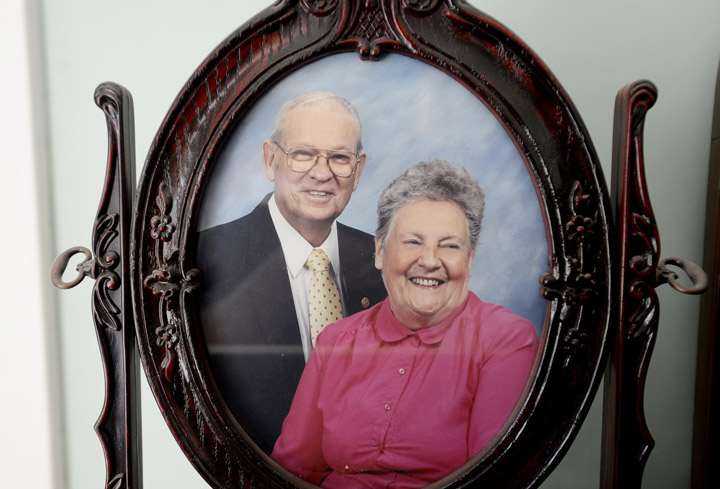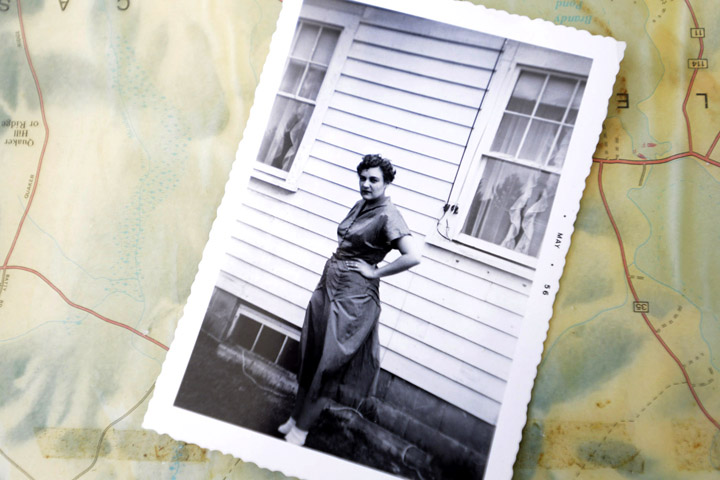 A vintage photograph, above, shows Dawn Ducharme as a young woman in 1956, and a more recent family photograph finds her with her late husband, Robert Ducharme, in 1999. Mr. Ducharme died in 2000.
Hard work isn't new to Havu. She got her first job when she was 13 years old, folding clothes at the Laundromat her grandparents owned, along with an automotive garage, where Ducharme was the bookkeeper.
Havu's father, Robert Ducharme, was a traveling salesman, who hawked everything from beer to backhoes.
Between school and when her parents got home from work, Havu took care of her younger sister and cooked dinner for the family. As a teenager, she had no problem finding trouble. She partied and wore her pants too low. She jokes that taking care of her mother now is karma for that.
"Every gray hair that woman has I gave her," Havu says. "This is my payback."
After high school, Havu went to Hesser College in New Hampshire to become a legal secretary and, though she admits she was more focused on Manchester's nightlife, two years later, she had an associate degree.
Her first full-time job was as a file clerk at the Southern Maine Agency on Aging, where she would return to work part-time years later. Because of her experience there, she said, she knew what resources were available for caregivers when she needed them.
When Havu's husband was promoted from lineman to supervisor at Central Maine Power Co., she tried to retire, but couldn't sit still for long. She eventually went back to work full-time as an office manager for campus life at the University of New England – a job she needed when Dwight went back to being a lineman after a couple of years. She assumed she'd still be working full-time now. She thought her husband might be getting ready to retire and that they'd be taking weekend trips to places like Nova Scotia. Maybe they'd see California for the first time.
But Dwight has to keep working, because she switched to his benefits when she went part-time last year. Since her mother's diagnosis, they haven't been able to go out to dinner by themselves, let alone leave the state.
"Yeah, I could throw her away. I could put her in a nursing home, and I could say, screw it," Havu says.
But not without paying. Ducharme's $80,000 in savings makes her too well off for MaineCare and she can't drain her account, because of a law that disqualifies applicants who have given away a significant amount of money within the past five years.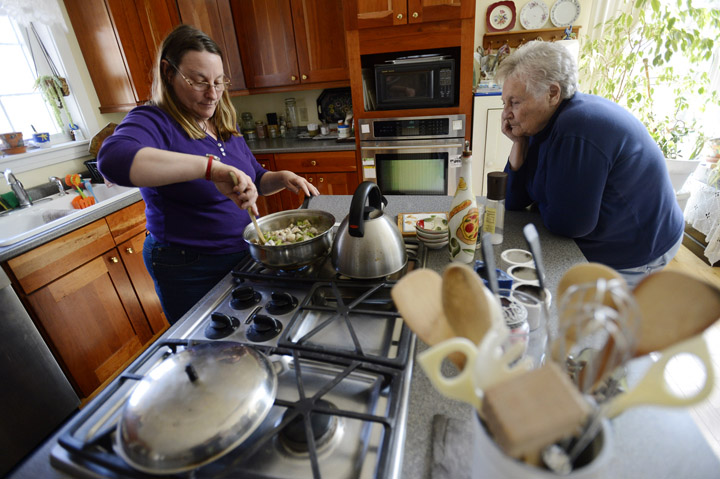 "I'm not a housewife," says Liz Havu, "I hate it." But her role as caregiver finds her almost constantly on the go, juggling medical appointments, errands, housework and financial responsibilities. Wednesdays are "Mother's Day," when Havu takes her mom to the beauty parlor and out to lunch at their favorite diner. At right, Havu organizes her mother's prescriptions for the entire week.
Shawn Patrick Ouellette / Staff Photographer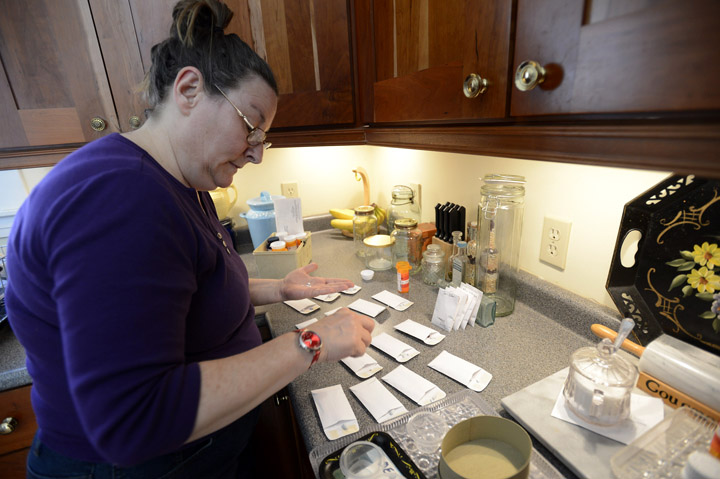 Ducharme helped her grandson pay for college last year, making her ineligible for MaineCare until 2017. Until then, Havu has to make sure the money she has left lasts.
Two days a week in day care is $1,000 a month, which leaves little for more help for Havu, who can't afford to pay for more care services herself. She's already lost wages and stopped contributing to her retirement. She had to take a job with Oakhurst, working marketing gigs on weekends, just to pay her bills.
"And then, in the end, who's going to take care of me?" she says.
Havu's son James graduated from college in Florida in the spring and was able to help with his grandmother while he was home for the summer. It was the first time in a while he could see how much she had changed.
"It's a little sad and frustrating," he says. "She can't interact and she can't understand the way she used to."
His mother is different, too, he says. She's tired and stressed. She snaps more easily and butts heads with his grandmother.
James is leaving again this month for graduate school in Michigan. Havu thought she'd have to find a way to make up for his absence, but soon learned she would have more time to take care of her mother herself. Her office at UNE was consolidating into another department and her part-time position in Biddeford was going to be gone. There was another job for her, but it was full-time and in Portland. She didn't take it.
"I need to take care of me and I need to take care of her, and if I'm working full-time, that ain't going to happen," Havu says.
About 75 percent of caregivers have been employed while caring for a family member, according to studies done by the AARP. Two-thirds of them say they've had to make work accommodations, from coming in late to taking less demanding jobs.
Over time, those who end up leaving their jobs because of caregiving lose, on average, $116,000 in wages, $138,000 in Social Security benefits and $50,000 in pension benefits, an AARP study showed.
Havu's last day of work was June 26. Dwight had vacation the next week and, while their son was still home to watch Ducharme, they decided to take off alone for a few days. They went shopping in Natick, Mass., and stayed for a couple of nights, then went up to a friend's in Readfield to sit by the pool and drink coconut rum. When they returned, Havu knew she would have to reinvent herself again.
Along with the Oakhurst gigs, she's been making money on the side by charging to organize spaces. She's done a barn, an office and a closet.
"I love it. It gets me excited," Havu says about putting things in order.
She already has a name for the business – Tin Lizzie's Services – and a LinkedIn profile. She plans to put out a shingle and hang ads on the windows of local stores. She also applied to work at Staples part-time, at nights, when Dwight is home, or when her mother is in day care.
"I have people tell me all the time, 'What you're doing is the right thing, and in the end you'll have no guilt,'" Havu says. "I won't feel guilty in the end."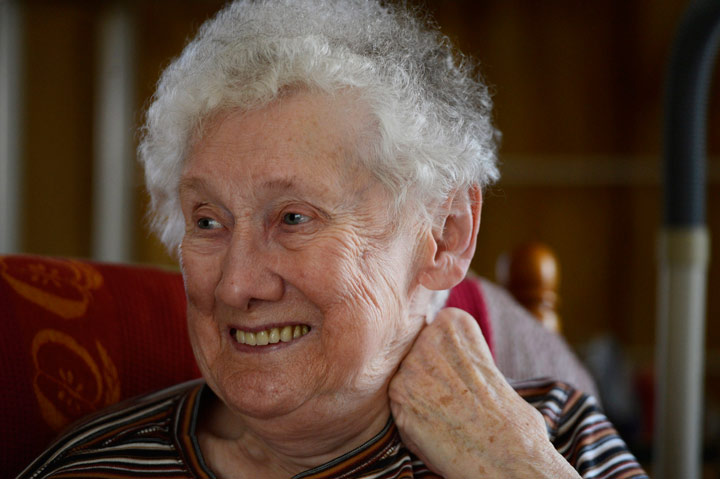 Part I. Mary Sweet
The oldest state faces a full-grown predicament
A Maine Sunday Telegram special project finds that the state isn't doing enough for its elderly population and - with baby boomers already beginning to feel the physical, emotional and financial impacts of aging - is even less prepared for the onslaught yet to come.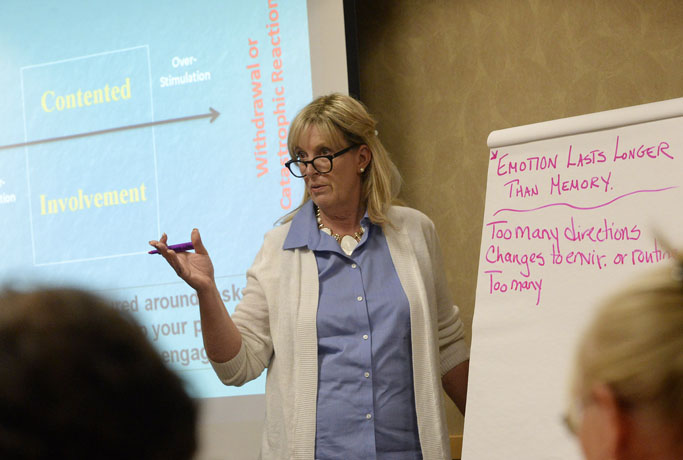 FACETS OF CAREGIVING
The Maine Savvy Caregiver program provides essential tools, but the loss of funding puts its sustainability in doubt.

Further Discussion
Here at
PressHerald.com
we value our readers and are committed to growing our community by encouraging you to add to the discussion. To ensure conscientious dialogue we have implemented a strict no-bullying policy. To participate, you must follow our
Terms of Use.
Questions about the article?
Add them below and we'll try to answer them or do a follow-up post as soon as we can.
Technical problems?
Email them
to us with an exact description of the problem. Make sure to include:
Type of computer or mobile device your are using
Exact operating system and browser you are viewing the site on (TIP: You can easily determine your operating system here.)