PART VIII: Seniors in love | June 15, 2014
'Not everybody is heterosexual'
Even in a more accepting society, the factors that can make old age so demanding are magnified for sexual and gender minorities.
It took countless meetings with lawyers – not to mention the associated costs – for CJ Lavertu and his late partner of 27 years to obtain the type of protections afforded by marriage.
For him and Wayne Smith, it was done with a simple "I do."
"I don't have to worry about all those things. Back then we had to," said Lavertu, 68, who wed Smith, 65, in 2011.
Although Maine has made major strides in social equality since Lavertu was growing up in Madawaska, he and Smith are part of a generation dealing with the new issues that have emerged as people on the front lines of the gay rights movement turn 65 at an increasing rate.
The challenges, from health care to transportation, are the same as the rest of the population.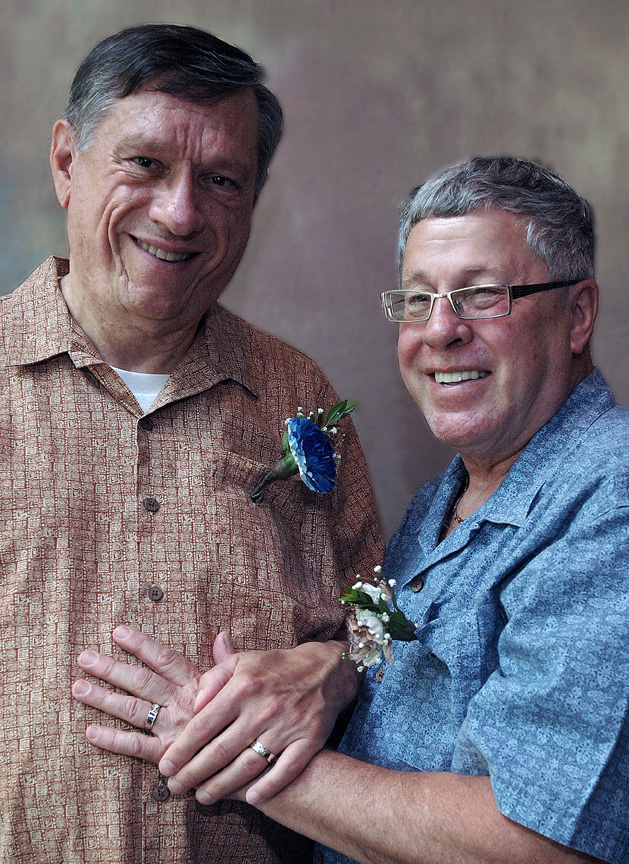 Wayne Smith, left, and CJ Lavertu at their wedding in 2011. The Maine men, from Surry in Hancock County, live openly and say they're honest about their relationship when consulting health care providers. "I think of it as education," Smith said. "You just have to make it sound totally natural, because it is."​
Family Photo
"(But) all that gets magnified when we're dealing with sexual and gender minorities," said Doug Kimmel, co-chair of the Maine chapter of SAGE – Services and Advocacy for GLBT Elders.
There's an assumption that elderly people aren't gay, Kimmel said, and if they are, "it doesn't matter, because they're too old."
That attitude, he said, has made some seniors reluctant to be honest with health care providers about their sexual or gender identities. It's pushed people back into the closet and caused others to avoid seeking treatment, he said.
A phone call almost four years ago from a 57-year-old disabled man in northern Maine alerted John Hennessy, AARP Maine's advocacy director, to the unique issues facing gay, lesbian, bisexual and transgender seniors.
The man told Hennessy that his home health aide, who had found out he was gay, had been reading passages from the Bible to try to convert him and threatened to out him in public.
He told the aide not to come back and, by the time he called Hennessy, hadn't had a shower in three weeks.
"It just broke my heart," Hennessy said. "That's when I started to think about this community and found SAGE."
Kimmel, 71, who lives in Hancock with his husband, was a natural choice to lead the group's Maine chapter. He was one of the founders of the entire organization when it formed in New York in 1978.
To apply to become an official SAGE affiliate, the group had to administer a community needs assessment.
A report from the study, published by AARP in March 2013, showed almost all LGBT seniors in Maine – an estimated population of 15,000 over 60 – live openly in their communities. Fewer, however, disclosed their sexual orientation to their health care providers and 20 percent felt they had been discriminated against when they did.
The state SAGE chapter has made it a mission to train health care and other professionals who work with seniors, including doctors, hospice workers and nursing home volunteers, to be more sensitive to the LGBT population.
"Simply being aware that not everybody is heterosexual is the first step," Kimmel said.
Part of that means not assuming someone has an opposite sex spouse.
"A surgeon might say, 'Will the wife take care of you after the surgery?' I have to decide, do I correct this and say my husband or just say, 'Yes,'" Kimmel said.
Smith and Lavertu are doing their own part by just being themselves.
They said they've always been honest about their relationship with health care providers and have never had a problem.
The same goes for their daily life in Surry. They get affectionate in the aisles of the grocery store and don't hesitate to introduce each other as husbands.
"I think of it as education," said Smith. "You just have to make it sound totally natural, because it is."
Seniors in love
The search for intimacy in assisted living
Discovering new love interests in a communal setting comes with its own set of challenges, namely 'there's not a whole lot of privacy.'

Seniors in love
Savvy seniors see the net gain
Once they overcome the stigma of seeming 'desperate,' they quickly take to finding a mate on the Web.

Further Discussion
Here at
PressHerald.com
we value our readers and are committed to growing our community by encouraging you to add to the discussion. To ensure conscientious dialogue we have implemented a strict no-bullying policy. To participate, you must follow our
Terms of Use.
Questions about the article?
Add them below and we'll try to answer them or do a follow-up post as soon as we can.
Technical problems?
Email them
to us with an exact description of the problem. Make sure to include:
Type of computer or mobile device your are using
Exact operating system and browser you are viewing the site on (TIP: You can easily determine your operating system here.)