CANAAN — Every evening, Bill Townsend heads to the kitchen and grabs a small basket filled with brown and green plastic bottles.
He settles at the table and starts the twice-daily ritual that's keeping him alive. Townsend manages a combination of 18 prescription and over-the-counter medications and supplements that stave off congestive heart failure, kidney disease and a variety of gastrointestinal problems.
It's a task that takes significant effort, even for this blade-sharp, 86-year-old environmental lawyer who still goes to work a few hours each day, when he feels up to it. He counts himself lucky because he doesn't have the cognitive issues that make it tough for many seniors to keep track of their meds.
When Townsend finishes taking his evening round of pills, he leaves the basket on the kitchen table so it will be there, waiting for him, when he gets up in the morning. After he takes his morning meds, he puts the basket back on the kitchen counter, where it will stay until he returns at night.
He tucks a couple of pills in his shirt pocket to take at lunch.
"It's a routine," Townsend explains in a matter-of-fact manner. "I think we thrive on routine without really having to think about it. That's the best way I've found to manage it."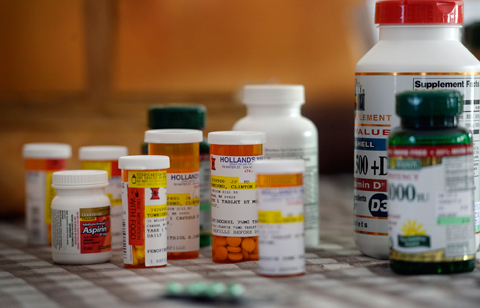 Some of Bill Townsend's medications
Shawn Patrick Ouellette / Staff Photographer
Townsend puts a relatively positive face on a serious challenge for many older Mainers, but experts say seniors, their caregivers, health care providers and pharmacists aren't doing enough to fix the problem.
The average U.S. senior is taking at least four to five prescription medications, and is prescribed more than a dozen drugs over the course of a year, various studies have found. Add over-the-counter drugs and dietary supplements to the mix, and many seniors take more than 20 pills and other meds each day.
To keep track of pill regimens that stretch from breakfast to bedtime, many seniors and caregivers set aside time each week to dole out medications into large, plastic pillboxes with several covered compartments for each day.
"The amount of effort and time that patients and their families put into (managing medications) is really mind-boggling to me," said Dr. Robert Anderson, a professor of emergency and internal medicine in the Tufts University School of Medicine's clinical program at Maine Medical Center.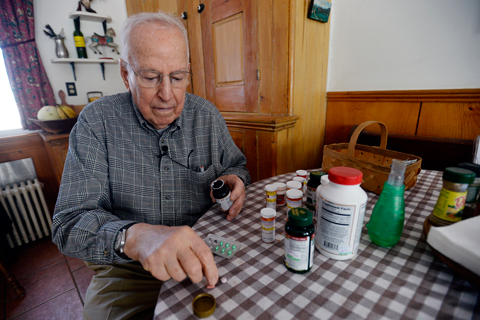 Bill Townsend, 86 of Canaan, taking some of his medications
Shawn Patrick Ouellette / Staff Photographer
Despite their best efforts, often using charts drafted by family members or health care providers, more than half of seniors fail to take their prescriptions correctly, according to a survey of Medicare recipients.
Cognitive issues make it more difficult to keep track of prescriptions, and adverse drug interactions can trigger additional health problems, including dizziness that can lead to bone-breaking falls.
Drinking alcohol also can dangerously alter the effects of some drugs, which may be a significant problem for some older Mainers. The state has the fourth-highest rate of chronic drinking in the nation, with 5.7 percent of adults age 65 and older reporting they drank excessively in the last 30 days, which is two or more drinks per day for males and one or more drinks per day for females.
In addition, many seniors see several doctors for a variety of health problems, which increases the potential for "polypharmacy," when someone is prescribed too many medications, including redundant or unnecessary pills. Some seniors buy their meds from multiple sources – different pharmacies, mail-order catalogs or online companies – so it's difficult for health care providers to help them keep track or for pharmacy software to pick up on problems.
Greater emphasis on patient-centered health care and online medical records are expected to reduce opportunities for error, but there's still a long way to go.
"We don't know what they're taking and they don't know what they're taking," said Anderson, who estimates that 80 percent of patients he sees really don't know what their medications are for.
Anderson and other experts say there's growing awareness that seniors and their caregivers, health care providers and pharmacists must pay closer attention to how and why medications are prescribed and consumed.
Shawn Patrick Ouellette / Staff Photographer
"Consumers should never be shy about asking about their prescriptions," said Joan Baird, a leader of the American Society of Consulting Pharmacists, whose members work with nursing homes to ensure adherence to Medicare pharmacy standards.
Anderson and Baird also said physicians, especially primary care providers, must be judicious in writing new or additional prescriptions and should regularly review all medications their patients may be taking, including over-the-counter drugs and supplements.
Some seniors are still taking medications initially prescribed decades ago – including sedatives such as Xanax – that may no longer be necessary and now may cause other problems, such as dizziness and falls.
Older people metabolize medications more slowly, which can drastically alter their impact, Baird said. And medications that may be necessary in the hospital, such as sedatives and dietary supplements, may not be necessary at home, Anderson said.
"We're not saying don't treat," Baird said. "We're saying treat carefully."
For Bill Townsend, taking charge of his meds – and knowing the purpose of each one – gives him a sense of control over illnesses that have robbed him of many pleasures. An avid outdoorsman, he still fishes whenever he can, but he misses hunting, snowshoeing and hiking in the woods, which he did regularly until five years ago.
He rides a stationary bike and walks on a treadmill a few times each week as part of a doctor-approved cardiac rehab routine. But he knows it's the drugs that keep him going.
"It's a necessary chore," Townsend says of his pill regimen. "You gotta do it."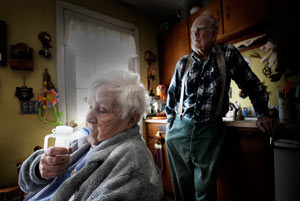 PART VI: ARNOLD & CORINNE MURRAY
Navigating a dizzying list of doctors, hospitals and rehab centers, Arnold and Corinne Murray have seen firsthand a health care system ill-suited to meet the needs of the elderly. The growing shortage of geriatricians will only compound the problem in a state where the aging population is exploding.​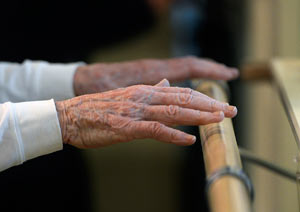 HEALTHCARE AND THE ELDERLY
Maine has one of the highest incidence of falls in the U.S., and yet the potentially lethal accidents frequently go unreported.

Further Discussion
Here at
PressHerald.com
we value our readers and are committed to growing our community by encouraging you to add to the discussion. To ensure conscientious dialogue we have implemented a strict no-bullying policy. To participate, you must follow our
Terms of Use.
Questions about the article?
Add them below and we'll try to answer them or do a follow-up post as soon as we can.
Technical problems?
Email them
to us with an exact description of the problem. Make sure to include:
Type of computer or mobile device your are using
Exact operating system and browser you are viewing the site on (TIP: You can easily determine your operating system here.)