HEALTHCARE AND THE ELDERLY | March 9, 2014
Depression packs punch in Maine
Mental health issues are particularly prevalent among the state's seniors, and, believing they can overcome it alone, few ever seek treatment.
Older Mainers have one of the highest depression rates in the nation, but Yankee independence and rural isolation may keep many from getting the mental health care that could improve and maybe save their lives, experts say.
Maine has the third-highest incidence of depression among seniors in the United States, with 17.8 percent of adults age 65 and older reporting they've been diagnosed with some form of the disorder, according to the 2013 Senior Report from America's Health Rankings.
It's unclear why Maine's rate is higher than other states, but Dr. Ronald Bailyn has noticed a tendency for people to accept depression as a natural part of aging and believe they can overcome it alone, especially if they never had depression as a younger person.
"People think, 'You're getting older, your friends are dying, why wouldn't you be depressed?' " said Bailyn, a geriatric psychiatrist who is a professor in the Tufts University School of Medicine's clinical program at Maine Medical Center and medical director of the hospital's geriatric program.
The stigma of depression may prevent many seniors from seeking treatment. Only 10 percent of older adults receive treatment for their clinical depression, according to the Geriatric Mental Health Foundation.
"Many older individuals are uncomfortable with mental health issues," Bailyn said. "They're going to meet whatever challenge is put before them and it's a personal failure if they can't."
Symptoms of depression in seniors sometimes differ from those in younger people, which include loss of appetite, disturbed sleep and thoughts of suicide. Seniors can disengage from their families and communities without expressing despair or hopelessness.
"It often doesn't present as sadness," said Meg Callaway, elder services coordinator at the Bangor-based Charlotte White Center.
Depression in older adults also can have different triggers, including a variety of emotional, genetic, biological and neurological factors that can spring from losses, life changes and illnesses, the foundation reported.
Physical illnesses such as heart disease, cancer and dementia may cause depression, as can catastrophic health events such as heart bypass surgery, hip fracture or stroke. Left untreated, depression can worsen existing health problems, lengthen recovery periods, make treatments less effective and increase risk of death, including by suicide.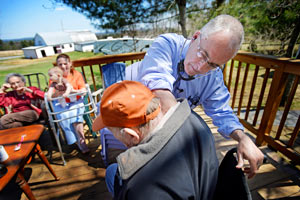 HEALTHCARE AND THE ELDERLY
As the state's elderly population mushrooms, a growing number of Maine physicians are realizing the advantages of seeing aging patients 'in their own environment.'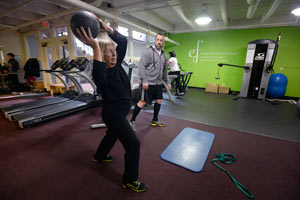 HEALTHCARE AND THE ELDERLY
Actively pursuing better health
Regular exercise does more than just keep you fit, medical experts say; it can help you prevent, delay or even treat an impressive number of ailments.

Further Discussion
Here at
PressHerald.com
we value our readers and are committed to growing our community by encouraging you to add to the discussion. To ensure conscientious dialogue we have implemented a strict no-bullying policy. To participate, you must follow our
Terms of Use.
Questions about the article?
Add them below and we'll try to answer them or do a follow-up post as soon as we can.
Technical problems?
Email them
to us with an exact description of the problem. Make sure to include:
Type of computer or mobile device your are using
Exact operating system and browser you are viewing the site on (TIP: You can easily determine your operating system here.)