FACETS OF CAREGIVING | August 18, 2013
The thirst for training
The Maine Savvy Caregiver program provides essential tools, but the loss of funding puts its sustainability in doubt.
H
arriet Brickman has learned how to react when her husband goes to bed with his clothes on: Don't worry about it.
"It's not a big deal," said Brickman, who has been taking care of her 92-year-old husband for several years.
Penny Thomas found out she could get reimbursed to pay a friend to watch her live-in father when she needs a break.
"There are resources out there, if you know where to look," she said.
Both Thomas and Brickman are graduates of the Maine Savvy Caregiver program, a six-week, 12-hour training for people who take care of friends or relatives with dementia. Most who enroll in the free training are having a similar experience.
"They're overwhelmed. Every day is like a different tsunami. It's just a 24-7 chronic, stressful situation," said Christine Merchant, the state's grant manager for the program. The participants leave knowing how to interpret behaviors associated with dementia, tap into the support services available to them and take better care of themselves.
Maine Savvy Caregiver participant Penny Thomas of Farmington talks about caring for her live-in father during a training session at Franklin Memorial Hospital. "There are resources out there," she says.
Shawn Patrick Ouellette / Staff Photographer
With federal grants for more than $1.6 million, the state's five Area Agencies on Aging have offered the training for free since 2009, but the money will be gone by November. It will be up to the Agencies on Aging to find ways to keep the program going.
"Nobody disagrees, it's an important thing to have," said Ann O'Sullivan, a Savvy Caregiver trainer at the Southern Maine Agency on Aging. The agency is considering various options, including charging to attend the class, holding it less often or finding a sponsor.
The classes, which consist of six to 12 students, have been held more than 160 times in the past four years, everywhere from York to Fort Kent.
"Finally, it's got momentum. The word is out. We've got waiting lists throughout the state," Merchant said.
Finding help


Find caregiver support services in your area on our resources page.

SIGNS THAT AN ELDER SHOULDN'T BE HOME ALONE

• They won't necessarily identify an emergency situation or, in an emergency, might not be able to call 911 and get out of the house safely.
• They are likely to invite in strangers or not let in family or emergency personnel.
• They might wander from the house or get lost if they go outside.
• They need help using bathroom and don't have an alternate plan.
• They need help eating and might leave the stove or water on.
• They're nervous about being alone and will frequently call family members or authorities.
(Sources: The Eldercare Team, Aging Parents and Elder Care)
National studies of caregivers show that nearly 70 percent say caregiving is their primary source of stress and that between 40 percent and 70 percent of caregivers show signs of depression, according to a 2011 report from the AARP Public Policy Institute. Developed by a doctor of social services, the training program was proven through a clinical trial to significantly reduce caregiver burden and depression.
In a survey of caregivers in Maine, less than 20 percent said they had sought support or training, according to the Maine Elder Services Needs Assessment, a 2012 report done for the Maine Association of Area Agencies on Aging.
Between March 2009 and March 2013, more than 1,000 Maine residents who care for someone with dementia had completed the training. In a follow-up survey, 100 percent of them said they would recommend it.
"Many people who've done (the training) get so much out of it, there have been calls, 'We want more,'" said Merchant.
The state answered that demand by applying for another federal grant to develop and implement a four-week follow-up class for people who have already done the Savvy Caregiver training. As of March 2013, about 100 caregivers had completed the second class.
Seven more of them, including Thomas and Brickman, met at Franklin Memorial Hospital in Farmington for a recent session. Kathryn Pears, the lead trainer for the state, went around the room asking for updates on everyone's caregiver situations since the first training.
There were accounts of more incontinence and more memory loss. One father, who insisted on making his own oatmeal in the morning, had burned seven pots since January. A wife was asking about her dead sister every day.
Between stories shared among the group, Pears talked about how certain triggers – such as loud noises, large crowds and tasks that are too complex – affect people with dementia. Their reactions can range from withdrawal to physical violence, she said. The caregivers nodded, sighed and even laughed as they recognized the behaviors they discussed.
Merchant said she can't imagine the training, which she described as "a lifeline" for many caregivers, stopping entirely. But she said it could look a lot different than it does now and could vary throughout the state, depending on how each agency proceeds. "The whole point of these grants is to have them be sustainable," she said.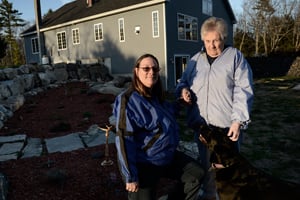 Part II. Liz Havu
The lifeline who lets mom stay at home
When Liz Havu's mother lost her independence to dementia, both of their lives changed dramatically. A devoted daughter found herself among the 190,000 caregivers in Maine who struggle with the burdens of physical, emotional and financial costs.

FACETS OF CAREGIVING
How caregivers can affect the economy
Downtime and loss of production cost U.S. employers more than $33 billion per year, the AARP says. But some Maine companies offer innovations that may actually reduce losses.

Further Discussion
Here at
PressHerald.com
we value our readers and are committed to growing our community by encouraging you to add to the discussion. To ensure conscientious dialogue we have implemented a strict no-bullying policy. To participate, you must follow our
Terms of Use.
Questions about the article?
Add them below and we'll try to answer them or do a follow-up post as soon as we can.
Technical problems?
Email them
to us with an exact description of the problem. Make sure to include:
Type of computer or mobile device your are using
Exact operating system and browser you are viewing the site on (TIP: You can easily determine your operating system here.)