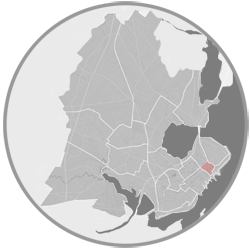 The India Street neighborhood has always been in transition. A former port of entry for early settlers and thousands of immigrants, it also has had to overcome numerous tragedies, including three fires that wiped out the neighborhood.
Today, the India Street neighborhood finds itself on the cusp of another great change.
Vacant lots and former industrial properties are being developed into expensive waterfront condominiums, while city leaders scramble to preserve what little history is left. And where immigrants once landed and cargo was loaded, giant cruise ships now bring flocks of tourists throughout the summer and fall.
The rapid change has some existing homeowners feeling the pinch as large luxury developments quickly rise, local restaurants become more trendy and new historic rules could affect how they maintain and improve their properties.
"Now, it's very obvious, there are a lot of retired, wealthier people living in this neighborhood," said David Filipos, who has lived on Federal Street for nearly 20 years.
The India Street neighborhood is bounded by Cumberland Avenue and Franklin, Commercial, Hancock, Fore and Mountfort streets. It is most commonly remembered as Little Italy, because of the number of Italian residents who settled and started businesses there. Until 1969, Italian families made up a vibrant, bustling community with vegetable gardens, but more than 100 homes were demolished to make way for Franklin Arterial.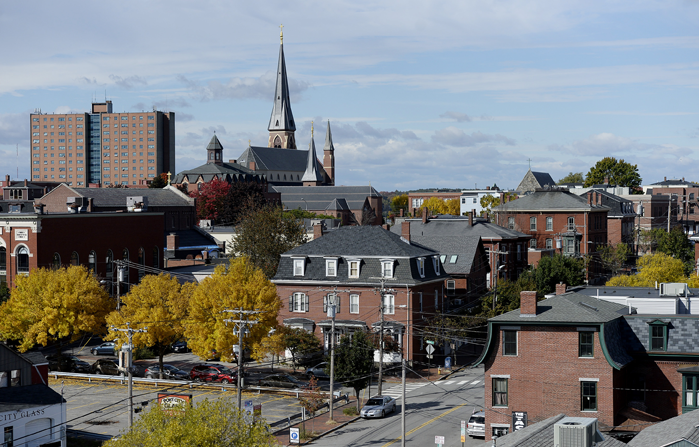 The city's India Street neighborhood, once a haven for Italian and other immigrants, has become trendy, with many older buildings being replaced by condominiums and other high-end development. Shawn Patrick Ouellette/Staff Photographer
Before that, however, the neighborhood had long been the first stop of many immigrants who came to Portland via steamships. There were white settlers in the 1600s, African-American laborers and mariners in the 1700s, the Irish in the early 1800s, and the Jews, Scots, Russians, Estonians, Swiss and Portuguese in the late 1800s. It also was an important cog for the Underground Railroad, hosting famed abolitionists Frederick Douglass and William Lloyd Garrison, and still lays claim to the Abyssinian Church at 73 Newbury St., the third-oldest African-American meeting house in the U.S.
Much of the neighborhood history, however, has been obliterated over the years through war (Wabanaki attacks in 1690 and a British bombardment in 1775), natural disaster (the Great Fire of 1866) or questionable planning efforts, such as the destruction of much of the neighborhood to make way for Franklin Arterial, now called Franklin Street. Residents today feel walled off from the vibrant Old Port by Franklin Street, a four-lane road with a wide grassy median that the city wants to scale back to a more human-scale street.
When Filipos moved to Federal Street in 1996, he said it was "a little on the rough side," but nevertheless a safe neighborhood.
His three-family house was built in 1870, right after the Great Fire. In the early 1900s, repairmen and longshoremen lived there. "They were just working guys like me trying to get ahead," said Filipos, a 54-year-old yacht repairman.
The old triple-decker apartment buildings are now being crowded out by high-end townhouses and condominium complexes. Neighborhood establishments, such as Sangillo's Tavern, which was shut down by the city in February after 62 years in business, seem increasingly out of place.
"Now, it's very obvious, there are a lot of retired, wealthier people living in this neighborhood."
A five-story, 86-unit condo complex called Bay House has risen on the former site of the Village Cafe, a beloved Italian eatery that closed in 2007. Roughly half to two-thirds of those units are being used as second homes, according to the real estate company selling the condos. Of those, half of the second homes have been sold to out-of-staters.
The second phase of that development, 113 Newbury, promises to add 32 condos and seven townhouses. As of July, prices for the 113 Newbury units ranged from $295,000 for a one-bedroom to $625,000 for a three-bedroom.
Martha Vrana-Bossart, 57, moved into a condominium on the fourth floor of the Bay House in January 2014, after her husband retired as a surgeon from the VA Medical Center at Togus. The couple sold their five-bedroom home in Augusta and bought a two-bedroom condo for $430,000.
"This was a downsizing opportunity for us," she said. "I love it."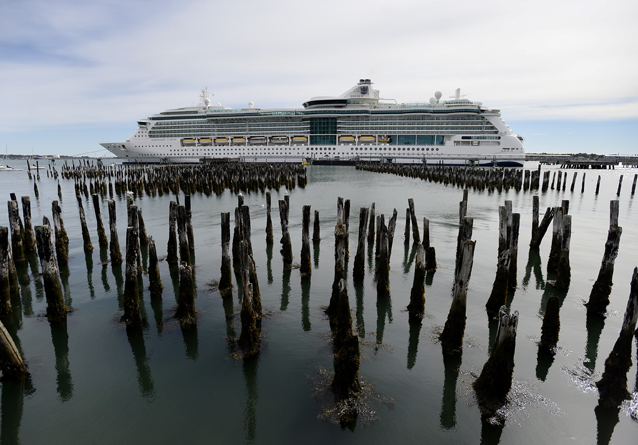 The cruise ship Serenade of the Seas is docked at the Ocean Gateway terminal along the India Street waterfront. Shawn Patrick Ouellette/Staff Photographer
Vrana-Bossart, a nursing instructor for the Maine Community College System, said she loves the neighborhood because it is close to the Old Port, Munjoy Hill and Eastern Prom Trail. There are ample choices for restaurants, recreation and cultural activities within walking or biking distance, she said.
The couple has an ocean view and are often greeted by the full-throated calls of seagulls in the morning, Vrana-Bossart said.
"It's quite peaceful here," she said. "I actually have a fabulous view in the morning when the sun comes up."
An office building will soon be built near her condo, while another vacant parcel of land is under contract to be sold and could be developed into a hotel.
Vrana-Bossart said she fully expects that development will continue to occur and the neighborhood will continue to change, but she doesn't think it will negatively affect her quality of life.
"You can't go into an urban environment with blinders on," she said.