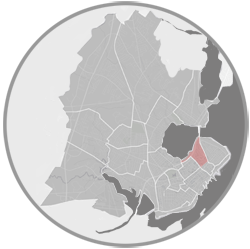 Norma Gribbin grew up in a house on Greenleaf Street from the time she was 7 or 8 until she got married in the 1950s, she said.
But you couldn't tell her she was from East Bayside.
"Bayside was Bayside," Gribbin side in an interview before she died in September at age 86.
As for the neighborhood on the other side of Franklin Street, "We didn't call it anything," she said. "It was mostly a junkyard down that way."
That was before the arrival of Franklin Arterial (now Franklin Street) and Kennedy Park and the cluster of industrial-turned-artisanal businesses that now define the neighborhood – Portland's up-and-coming hotspot.
As housing on the peninsula becomes increasingly scarce, more people are willing to live in neighborhoods once considered less than desirable in order to be within walking distance of downtown.
East Bayside is poised to be the next big thing.
Adjacent to the already gentrified neighborhood of Munjoy Hill, East Bayside falls between Interstate 295 and Congress Street, from Washington Avenue to Franklin Street.
Packed into the small maze of streets with mostly vinyl-sided houses is the most racially diverse population in the state, with just over half of the residents identifying as white, compared with almost 86 percent of the city's residents.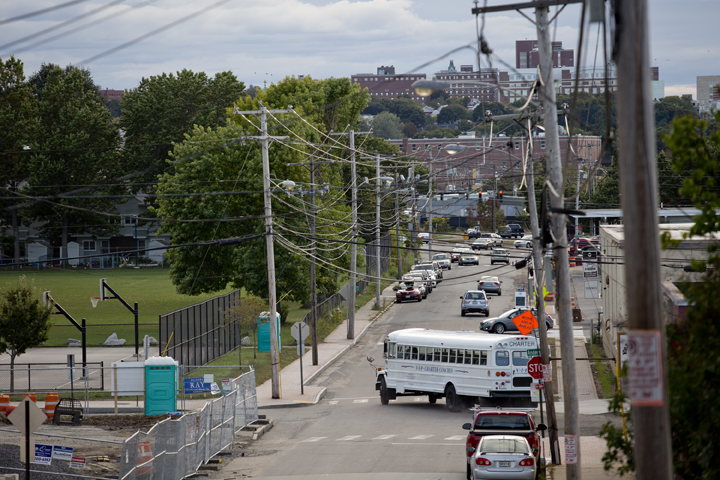 A bus pulls off Anderson Street onto Fox Street in East Bayside. The neighborhood was once shunned by many city residents but its proximity to downtown is making it a destination district. Gabe Souza/Staff Photographer
The neighborhood didn't set itself apart in terms of racial diversity until the past 20 years.
When Gribbin was growing up, she said, it was full of Irish, Italian and Scandinavian families.
And, even though Munjoy Hill residents weren't rich themselves, "they looked down on us," she said. Gribbin remembers her father, a machinist at the Portland Co., paying $16 per month to rent a three-bedroom apartment for their family of eight.
But 30 years of census data shows that the neighborhood didn't become the poorest in Portland until recently.
According to the 2013 American Community Survey, East Bayside had the lowest median income, at $21,513 annually, less than half that of the city as a whole.
But things are looking up for the neighborhood.
In the middle of Kennedy Park one day last summer, children waited in line outside a room dubbed the study center. Less than 10 years ago, you'd be more likely to see a group of intoxicated teens running about, said Samuel Albino, who has lived in the subsidized housing project since 2005.
Albino, 53, who came from Sudan, remembers having to choose between living in Riverton or Kennedy Park, which had a reputation for more crime but was closer to resources.
He's happy with his decision and has seen the area greatly improve as a result of community and police involvement. Now soccer games are a more common sight than drug deals.
It's only been in the past couple of years that East Bayside has become a destination.
Heather Sanborn said that when she and her husband moved Rising Tide Brewing Co. there in 2012, the neighborhood wasn't "a selling point."
A man walks on Fox Street in East Bayside. The neighborhood has grown rapidly in recent years, attracting more businesses and residents. Gabe Souza/Staff Photographer
The proximity to downtown and relatively low cost, however, helped make up for it. Not long after, other manufacturers – including brewers, distillers and coffee roasters – as well as artists and craftsman caught on, too.
Now, the former warehouses they occupy, between Fox Street and Marginal Way, are a destination for residents and visitors looking to try their products and tour their facilities.
Still, most of those patrons aren't from the neighborhood, Sanborn said.
That could start to change after the construction of a four-story building at the corner of Anderson and Fox streets with 53 market-rate apartments and a restaurant and retail space below.
Sanborn said that when the company moved in three years ago, the only people she saw were walking from Munjoy Hill to Whole Foods.
"We're really thrilled to have been there and been part of the renaissance of the neighborhood," she said.