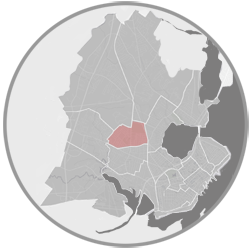 Today, Deering Center's most notable characteristic – besides the handsome, tree-lined residential blocks – is the strip of local businesses and public institutions along Stevens Avenue, a miniature town center.
All within a short walk from the intersection of Stevens Avenue and Woodford Street to Hartley Street are staples of the neighborhood: Deering and Catherine McCauley high schools, the Burbank branch of the Portland Public Library, and a smattering of businesses that often save Deering residents the hassle of traveling downtown.
One of the longest-standing businesses is Roy's Shoe Shop, now owned and run by Dan Lentz, 49. First opened in 1929, Roy's has been a staple of Deering Center for generations, Lentz said.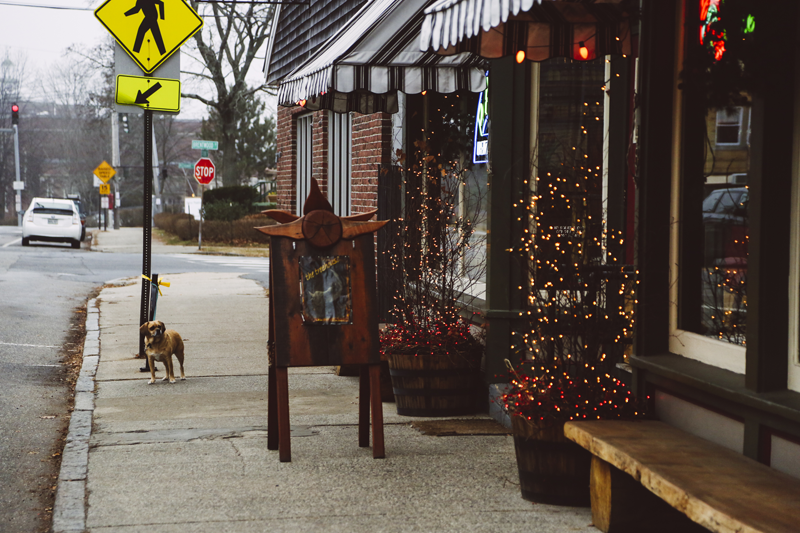 A dog waits for its owner outside Pat's Meat Market in Deering Center. A smattering of small businesses and public buildings, most on Stevens Avenue, provide a miniature town center for the mostly residential neighborhood. Whitney Hayward/Staff Photographer
Before him, Lentz's father ran the business, after taking it over from the namesake, George Roy Sr. The business moved from 5 Brentwood St. in 1980, taking over a floral shop at 500 Stevens Ave., and Ciano's Pizza now occupies 5 Brentwood.
Lentz's family owns the building now, and he is slowly making improvements, but other than that, it is much like the neighborhood around him.
"Not much has changed, but it's paid for, and no one can take it."
"Not much has changed," Lentz said, smiling. "But its paid for, and no one can take it."
Lentz said he enjoys the camaraderie among business owners in the area. Although some businesses have changed hands over the years, there is a strong sense of place that binds them together, he said.
Away from Stevens Avenue, most of the neighborhood consists of blocks of single- and two-family homes, with a few three-family houses mixed in.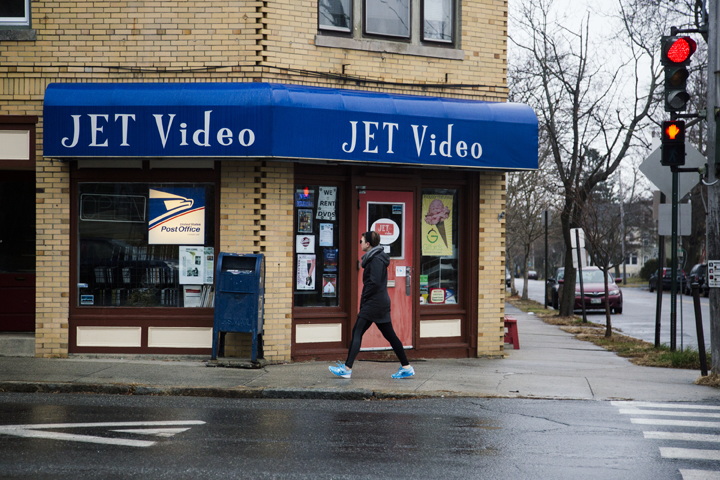 A woman walks past Jet Video in Deering Center. Stores and other small businesses allow residents to avoid traveling downtown to shop. Whitney Hayward/Staff Photographer
Most homes are owner-occupied, with only 43 percent of residents renting out units. Rent for a two-bedroom hovers at $1,461, below the citywide average of $1,560.
Deering Center is less racially diverse than the city as a whole. Seven percent of the 4,000 residents are non-white, compared with 14 percent citywide. And the area has the lowest percentage of foreign-born residents of any Portland neighborhood – 4.9 percent, compared with 12 percent citywide.
Historically, the neighborhood has been a bedroom community for the city. Before it was annexed by Portland in 1899, its motto was "Deering, a City of Homes."