William Wilberforce Ruby's animated role in calling attention to the Great Fire of 1866 is captured in his obituary, published March 3, 1906, in the Daily Eastern Argus.
Ruby was strolling along Commercial Street, near Maple Street, on that balmy July 4 afternoon when he noticed "a great deal of smoke arising" from the rear of Deguio's boat shop.
"Upon investigation, he discovered the place in flames and at once began to shout fire and to run about attracting attention, which was the way they had of giving alarms in those days," Ruby's obituary explained.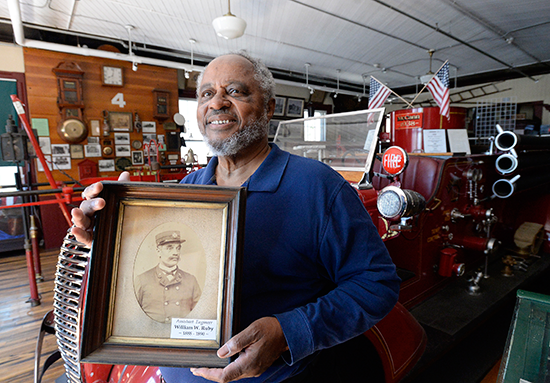 Bob Greene of South Portland holds a photo of his ancestor, William Wilberforce Ruby, who is credited with discovering the Great Fire of 1866 and later became a firefighter and city leader. Shawn Patrick Ouellette/Staff Photographer.
Ruby was 32 years old at the time and belonged to one of Portland's prominent black families. Named for the renowned English abolitionist William Wilberforce, Ruby was the son of Reuben Ruby, a founder of the Abyssinian Meeting House, Portland's first black congregation.
Bob Greene, a South Portland resident and distant cousin of William Ruby, said he's glad his relative was on the spot to call attention to the fire. But Green is more impressed with what Ruby, who later joined the fire department, had to say about firefighting methods in the 1860s. Greene's four-times great-grandmother, Sophia Ruby Manuel, was Reuben Ruby's sister.
"William Ruby was just there when it happened," said Greene, 80, a retired Associated Press reporter who has researched his family history. "We've all been places when something big has happened. What's more interesting to me is what he had to say about the fire itself and how it spread."
According to Ruby's obituary, he had "always maintained that with modern means of giving alarms and modern appliances for fighting fires, the Great Fire would not have amounted to more than an ordinary case," especially if there had been a water hydrant nearby. "For when he saw (the fire), it had not assumed threatening proportions."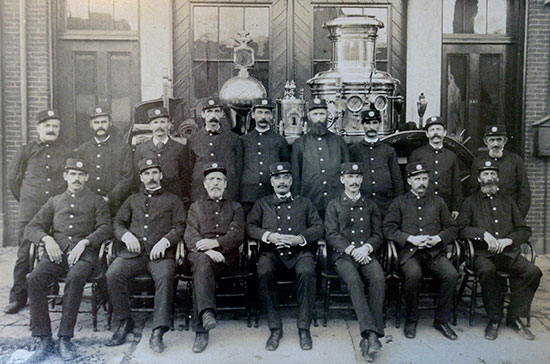 William Wilberforce Ruby, fire company foreman, center front, sits with members of Machigonne Engine Co. No. 1 in 1886-87. Photo courtesy of the Portland Veteran Firemen's Association collection at the Portland Fire Museum.
It's also believed that Ruby had a hand in preventing the fire from taking the Abyssinian, a timber-frame structure built in 1828 that still stands on Newbury Street, at the foot of Munjoy Hill. Ruby is credited with protecting the meeting house by covering the roof with water-soaked blankets, though the fire never got close to the building.
Ruby, who was a mess cook with the 12th Maine Volunteer Infantry Regiment during the Civil War, operated a grocery business on Newbury Street for several years after he returned, then ran a series of restaurants that were known for large portions and low prices, his obituary said.
Ruby became a leader in ward politics and served on the city committee, a forerunner of the city council, Greene said. In 1884, he joined the fire department, serving with Machigonne Engine Co. No. 1 at 555-557 Congress St., near the head of Forest Avenue. Within two years Ruby was elected foreman, or captain, of the fire company and in 1888 he was elected assistant engineer of the department, possibly making him its first black officer. He held the position for two years before the political tides turned and he was retired from the company, according to city records.
Still, Ruby continued to respond to fire alarms and provide assistance "to the full satisfaction of everybody," his obituary said. "He was a man of great strength and personal courage, who was never at a loss in a critical moment."