William Schnorr
Decades later, a World War II veteran gets the medal he earned.
William Schnorr bypassed a diploma from his Rhode Island high school in order to serve in World War II, but the former small-business owner doesn't regret it.
"The principal called me into the office (saying), 'We got a problem – we got a lot of motorcycles in the parking lot,' " he recalled. " 'You've either got to get rid of the motorcycle or do something else.' "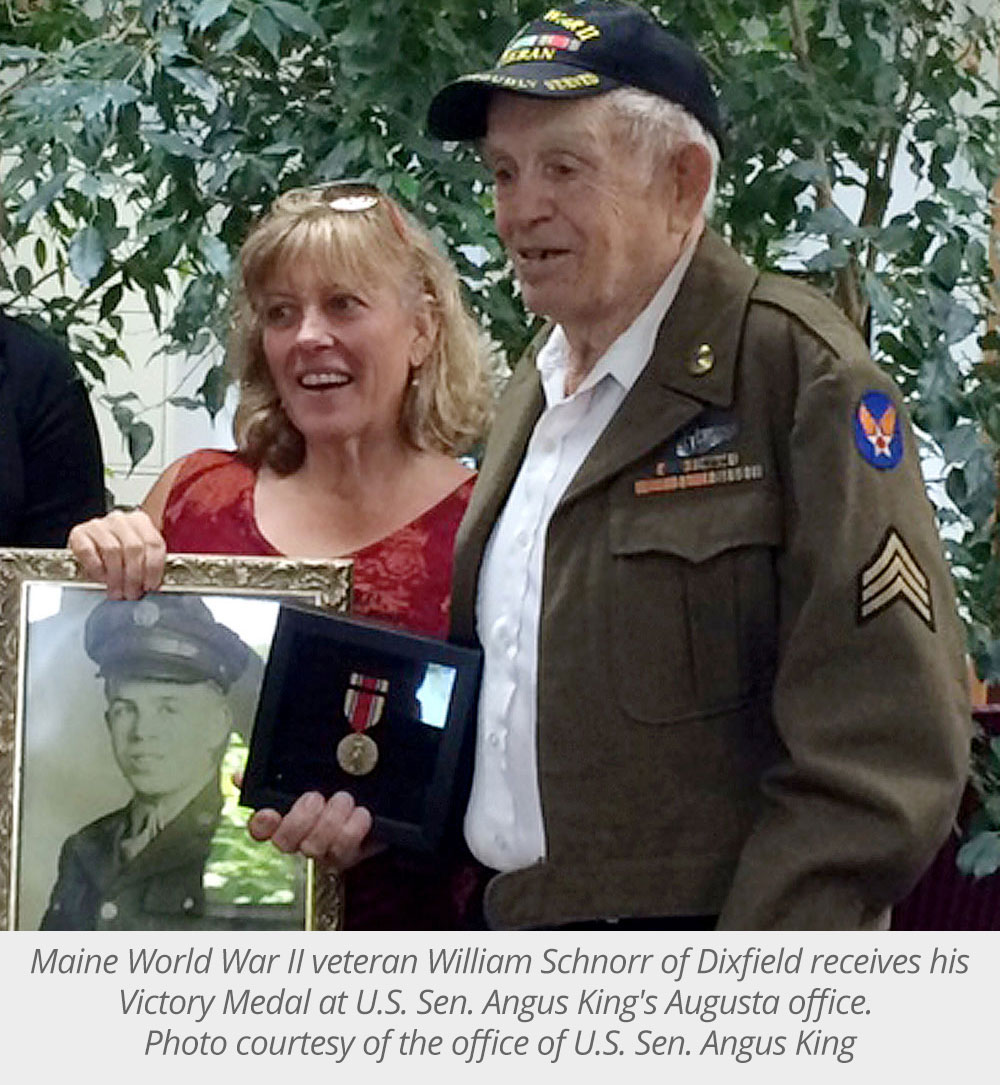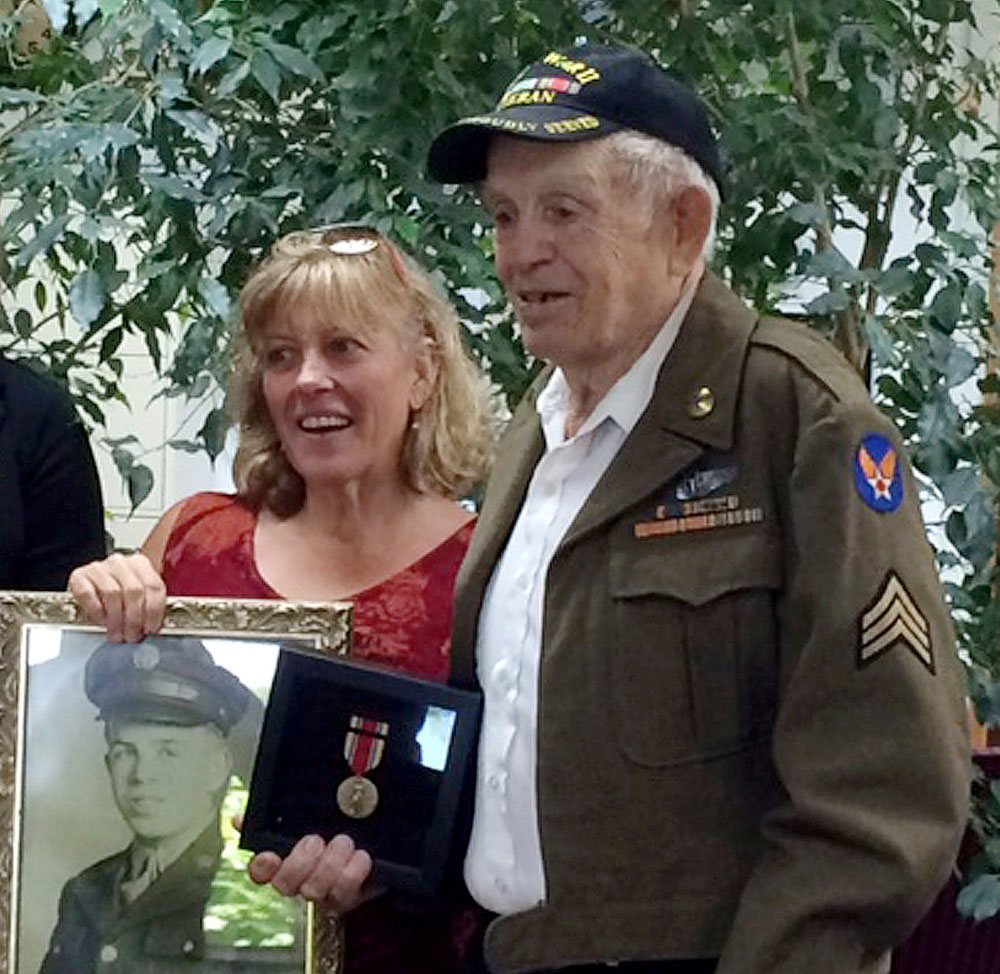 His response? "I enlisted … and was off."
Specifically, he was off to serve as an Army Air Forces bombardier, flying missions to Germany from Bury St. Edmunds, England. Soon, he was doing double duty as a gunner.
"I lost a lot of friends. Every plane that went down had 10 guys on it," said the former Army sergeant, who served from 1942 to 1945.
On one landing, his bullet-ridden aircraft was down to one engine, and skimmed the treetops. Years later, he wondered if, on one of his runs, he might have bombed his own relatives: His paternal grandparents were immigrants from Germany.
The 91-year-old from Dixfield received a Good Conduct Medal during the war, and as part of the 94th Bombardment Group (Heavy), a Presidential Unit Citation and an Air Medal with oak leaf clusters.
Yet one medal he nearly didn't receive – he hadn't gotten his World War II Victory Medal, which is given to all who served in that conflict.
Schnorr finally was awarded that medal in a July ceremony at U.S. Sen. Angus King's Augusta office. The senator helped secure the medal after welcoming home Schnorr and other World War II veterans from an Honor Flight last fall.
William Schnorr, retired business owner
SERVED from 1942 to 1945 in the U.S. Army Air Forces; achieved the rank of sergeant.
BASED at Lowry Field (later Lowry Air Force Base), Denver; Las Vegas Army Air Base (later Nellis Air Force Base), Las Vegas; Lincoln Army Air Field (later Lincoln Air Force Base), Lincoln, Neb.; Royal Air Force, Bury St. Edmunds, Suffolk, England.
RECEIVED Good Conduct Medal, World War II Victory Medal; as part of the 94th Bombardment Group (Heavy): Presidential Unit Citation, Air Medal with oak leaf clusters.
The Honor Flight trips bring older veterans to Washington, D.C., at no charge to them, to see the memorials erected in their honor. Among them is the World War II Memorial. Schnorr's daughter Lynn, 52, of Stratton escorted her dad on the trip.
She hadn't seen him cry much in her life, she said, but the tears flowed during "the best weekend" of his life.
"Here they all were, 90-year-old men … acting like a bunch of 20-year-olds," said Lynn. "It seemed like almost instantly these guys were bonding."
Though he experienced the "terrible" reality of war, Schnorr said his military service imbued him with perspective and a sense of responsibility that have served him well, especially through tragedies, such as losing a brother in a plane crash, a teenage son to an automobile accident and his second wife to cancer.
Schnorr has six living children and several stepchildren and grandchildren. He celebrated his birthday in September with a fishing trip "up to camp" near Jackman with his son Dwayne, 62, of Rhode Island.
The World War II veteran is also anticipating driving his pickup to help daughter, Jill, 23, move from Portland to New Hampshire. Schnorr himself moved to Maine in the mid-1980s to care for his dad, selling his Rhode Island home and rentals and giving Dwayne his heavy equipment operating business.
Until four years ago, Schnorr still ran a portable sawmill. He still cuts firewood, mows the lawn and picks apples with his wife, Fe. He adopted her son, Mingfeng, 19, a University of Maine sophomore. "Life has been very good to me," reflected Schnorr, adding that he isn't fond of empty nester-hood. "I never got in any trouble ... outside of owning a motorcycle."