Maine's dependency ratio
The "dependency ratio" refers to the number of working-age adults divided by the number of non-working dependents. As Maine's retired population grows, this ratio is expected to shrink dramatically: a smaller proportion of taxpayers will need to cover increased health care costs, and comparatively fewer working-age adults will be available to work as caregivers.
Compare the state's past and projected age profile:
2000
2012
2027
In 2000, there were approximately 4.2 Mainers of working age for each senior aged 65 or older.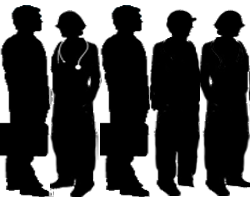 Sources: US Census Bureau and Fralich, J. et al., Older Adults and Adults with Disabilities: Population and Service Use Trends in Maine, 2012 Edition (Chartbook). Portland, ME: University of Southern Maine, Muskie School of Public Service; 2012, based on data from 2012 New England State Profile: State and County Projections to 2040, © 2011 Woods and Poole Economics, Inc. Woods & Poole does not guarantee the accuracy of this data. The use of this data and the conclusions drawn from it are solely the responsibility of the Muskie School.